Bridget vs Bertie for Wodehouse book prize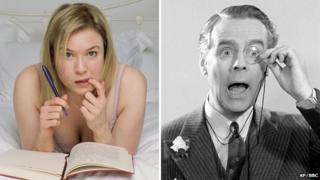 A Jeeves and Wooster pastiche is up against the latest Bridget Jones novel for an award celebrating the year's funniest books.
The Bollinger Everyman Wodehouse Prize for Comic Fiction is given to the book considered to best capture the comic spirit of PG Wodehouse.
As part of the prize, the winner is presented with a Gloucestershire Old Spot pig which is named after the winning novel.
The winner will be announced on 19 May.
The year's shortlist contains novels by Sebastian Faulks, Helen Fielding, Hanif Kureishi, John Niven, Joseph O'Connor and Edward St Aubyn.
Faulks, a life-long fan of Wodehouse, had the approval of the writer's estate to pen Jeeves and the Wedding Bells using his well-known creations.
The book sees the reliable valet Jeeves and the dim but amiable Bertie Wooster embroiled in a story of swapped identities.
Meanwhile, Mad About the Boy is Fielding's third novel about her famous singleton - and now widow - Bridget Jones.
The first book in the series, Bridget Jones's Diary, was published in 1996 and a sequel, The Edge of Reason, was released three years later.
The 2014 Wodehouse Prize shortlist was chosen by the judges: Everyman's Library publisher David Campbell, Hay Festival director Peter Florence and broadcaster and author Jim Naughtie.
"The shortlist for our 15th prize is one of the strongest we've ever had," said Campbell. "All the books on the list are of great calibre and quality which makes the job of choosing just one of these witty, zestful novels as the winner almost impossible."
The other shortlisted books are The Last Word by Hanif Kureishi, Straight White Male by John Niven, The Thrill of it All by Joseph O'Connor and Lost For Words by Edward St Aubyn.
Last year's winner was Howard Jacobson's Zoo Time. Previous winners include Will Self, Terry Pratchett, Ian McEwan, Marina Lewycka, Paul Torday, and DBC Pierre.
The Hay Festival runs from 22 May - 1 June 2014. The BBC will broadcast coverage of the festival on television, radio and online.