Anne Frank keeps memory alive for new generation
By Anna Holligan
BBC News, Amsterdam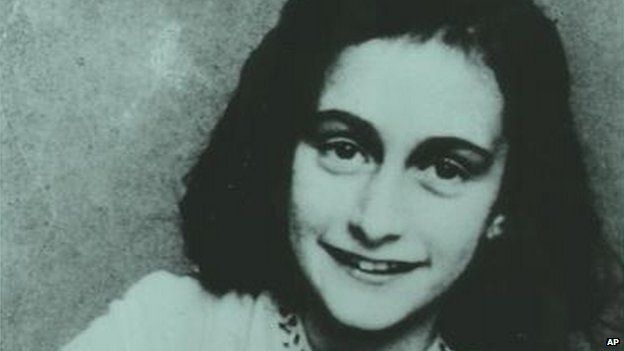 A new play based on the best-selling diaries of Anne Frank, one of the most recognisable victims of the Holocaust, is set to open in Amsterdam.
Entitled simply Anne, the play is the first stage adaptation to incorporate the Jewish teenager's complete family archive. The BBC's Anna Holligan was given exclusive access to rehearsals inside a purpose-built arena.
Audiences will be shipped to the 1,100-seat theatre on board a ferry from Amsterdam's Central Station.
Producer Robin de Levita describes the stage as a '3D design'.
"Six months ago there was only dust," says the play's publicist, gesturing to the walls as he gives a tour of the theatre space.
Now a revolving house twists to reveal the secret annex. Showing the front and back of the building in this rotating form almost simultaneously, is an attempt to help the audience understand life in hiding for Anne and her family.
Anne Frank's Diary, written during the two years the teenager and her family hid from the Nazis in occupied Amsterdam, has been translated into more than 60 languages and sold more than 25 million copies.
In the new stage production, a cast of approximately 20 actors will deliver their lines in Dutch, but the play will be simultaneously translated into six languages.
Archive footage is projected onto vast screens either side of the stage.
To readers, Anne is a symbol of hope, heroism and a reminder of the horrors inflicted on Jews during World War 2.
But as the 70th anniversary of her death in a concentration camp approaches, the foundation that holds the exclusive rights to the Anne Frank "brand name" is afraid her legacy is fading.
With that in mind, the Switzerland-based Anne Frank Fonds (AFF) has recruited award-winning Dutch producer De Levita to revitalise her story and translate it into a contemporary play.
"It's important that the story doesn't die," says Yves Kugelmann, director of the AFF.
"We are living in a Playstation generation - that's what we're competing with. But there are so many important lessons that Anne Frank tells us about discrimination.
"It is important for young people to step away from their computers and learn lessons from the past. But we have a responsibility to make sure we speak to that audience."
De Levita comes with some impressive credentials. He has produced numerous shows on Broadway and London's West End including the musical Chicago and West Side Story.
Anne is his first official stage adaptation since a Broadway production in 1955.
De Levita says he wants it to be a "fully immersive, totally new" experience.
"It's such a legacy, it's so perfect for a theatrical experience.
"I know it's a risk and if we don't reach a big audience the whole project will fail.
"If we succeed it should feel more like you're in a movie theatre."
But the commercial nature of this new production is creating waves.
Frank Leopold, the director of the Anne Frank House, believes it is inappropriate for the new production to profit from Anne Frank's legacy by offering canal cruises, champagne and canapés as part of an "Anne package".
"It is being presented as a convivial evening out, with drinks, dinner packages and hostesses. In our view this is not appropriate to the history of Anne Frank," says Leopold.
There is some history to the disagreement - the AFF, which owns the copyright on Anne Frank's diary, and the Anne Frank Foundation, which runs the house, do not have an easy relationship.
In the past, they have argued about the Frank family archives, with the Swiss organisation causing particular upset by demanding documents and files from Amsterdam in order to set up its own Frank Family centre in Frankfurt (where the Frank family originally came from).
But war historian David Barnouw says the row over the new theatre production is being overplayed.
"When Otto Frank had the diary of his daughter transformed into a book, you had commercialisation then," he says. "It is sometimes big business.
"And all those things about dinner or champagne or whatever... In the Anne Frank House you drink a beer and have a snack too. I don't think it's bad taste."
With the play's opening night sold out, it seems that audiences agree - for the time being at least.
As Anne Frank once noted in her diary: "I want to bring enjoyment to all people, even those I've never met."
No doubt, producers are hoping this new show will help the teenager to achieve that dream.
Related Internet Links
The BBC is not responsible for the content of external sites.