Sir Alan Ayckbourn: Using ping pong balls to keep theatre alive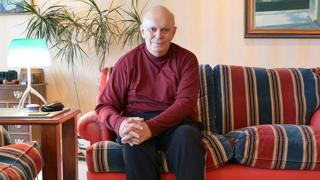 Theatre giant Sir Alan Ayckbourn will let audience members choose how the action unfolds in his next play by asking them to pick coloured ping pong balls out of a bag. At the age of 75, the playwright explains why he still wants to "scare myself".
"It's a bit like Lottery Live." Sir Alan is describing how balls will be picked at random to decide the running order of the five acts in his new play Roundelay.
With some relish, the writer and director remarks: "It's nothing like I've ever done before."
The nightly ritual will probably not be quite as flashy as the lottery draw, but the idea is Sir Alan's most daring experiment with story structure to date.
Roundelay, which receives its premiere at Scarborough's Stephen Joseph Theatre in September, is the 78th play of his career.
One of Britain's most popular and prolific playwrights, Sir Alan got the idea after buying Chris Ware's graphic novel Building Stories, which comprises booklets telling 14 connected stories, for his wife's birthday.
"We sat down and opened the box and all the bits of paper fell out and thought, 'Well where do we start?'" He says. "So I started at one end and she started at the other, and I really enjoyed it."
Roundelay's experiment means there are 120 possible different orders in which the play's five acts can be performed.
"We get five coloured ping pong balls in a bag in the bar, and we ask one or two punters to pick the colours out. That's the order you're going to see them in tonight.
"And then we ring downstairs to the green room and tell the stage management and the actors. I'm just interested to know, if that [thing] happens at that point in the evening, what does it do to the rest of the evening?"
Each act has a different tone. "There's a rather dark gothic one, there's quite a nostalgic one and it goes right through to broad farce," Sir Alan says.
'Theatre is alive'
Characters will come to the fore in some acts, be in the background in others and be absent for the rest. The stories interweave so that, by the end, the audience should have the complete picture.
"It's another attempt by me to explore different areas, but also to scare myself slightly," Sir Alan says. "It's exciting.
"I've always wanted to remind people that theatre is alive. The question we kept asking ourselves for the last two or three decades is: 'What can we provide that isn't on telly or film or video?'
"The answer is a live experience, so my shows have tended to bend over backwards to explain how live they are, and this one's no exception."
He also expresses reservations about cinema screenings of plays, describing them as a "second-hand" experience.
Sir Alan will direct Roundelay, as well as The Boy Who Fell Into A Book, a new musical version of his 1998 children's play, which opens in Scarborough next month.
The Boy Who Fell Into A Book, about a child who falls asleep and finds himself inside his bedtime story, has been adapted by Paul James, Cathy Shostak and Eric Angus - who previously created a musical of The Demon Headmaster.
"I said, 'Who do you want to direct it?' And they looked vaguely in my direction. And I went, 'Oh God, not again.' So I said, 'Yeah, OK.'"
There is an oft-quoted fact that Sir Alan Ayckbourn is second only to William Shakespeare in the league of the UK's most-performed playwrights.
Before this summer's exertions in Scarborough, two of his classic plays are being staged elsewhere - 1987's A Small Family Business has been revived at the National Theatre in London, while 1997's Things We Do For Love, starring singer Natalie Imbruglia among others, is coming to the end of a UK tour.
There have been a string of West End revivals in recent years after Sir Alan lifted a ban he imposed on London productions following a couple of bad experiences in 2002.
'Madly possessive'
He still refuses to let his new plays transfer to the capital, however. "I just won't let them be done. It's all right when they're a few years old but I'm madly possessive about the new stuff."
His refusal may also mask the fact that there is less demand for his most recent plays than the classics, most of which he is willing to let out of his grip.
"They can pick and choose now," he says. "As long as they don't keep doing How The Other Half Loves. Please, please stop doing that. I'm sick to death of that play, I really am. But there are plenty of others."
Sir Alan admits it has become harder to write at his time of life, but speaks about his desire to keep moving forward. Six years after suffering a stroke, though, his body is struggling to keep up.
"I typed the last five plays with one finger, and the finger's absolutely wrecked as a result," he says.
He is now trying out dictation software for his next script, although it "keeps writing rubbish", he says.
His difficulties with typing signal wider mobility problems. At his home in Scarborough, North Yorkshire, the town where he has lived since 1957, his walk is somewhere between a hobble and a shuffle.
"My movement's rubbish," he says. "My knees are shot. I can walk distances but only on the flat, and this [left] arm is really not fully cooperative.
"But I'm coping. As long as I can write."
The Boy Who Fell Into A Book opens at the Stephen Joseph Theatre, Scarborough, on 18 July. Roundelay opens on 4 September. Sir Alan's A Small Family Business is being screened by National Theatre Live on Thursday.