Russell Brand accepts damages from Sun on Sunday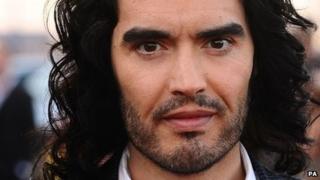 Comedian Russell Brand has accepted substantial libel damages over a Sun on Sunday story which claimed he cheated on his girlfriend Jemima Khan.
The 38-year-old sued the newspaper in January after it carried the story across three pages on 17 November 2013.
Brand won the damages last month, but has now accepted it formally at London's High Court.
The comic said he would be donating the unspecified damages to the Hillsborough Justice Campaign.
Brand's solicitor John Kelly told Mr Justice Tugendhat the newspaper's claims were entirely without foundation and "distressing, hurtful and damaging".
He said the star immediately wrote to the newspaper after the publication of its front page "exclusive" - headlined "Russell Cheated On His Jemima With Me" - informing them the claims were false.
"The claimant's distress was increased as a result of the defendant's initial refusal to remove the article from the newspaper's website, or to withdraw the allegations and publish an apology", Mr Kelly said.
"After the newspaper refused to apologise Mr Brand issued proceedings for libel.
"The defendant now accepts these claims are in fact totally untrue and defamatory and that these claims should never have been published."
Mr Kelly added News Group Newspapers, which also publishes Sun on Sunday, had apologised to Brand and Khan for the distress and embarrassment caused.