Fire alarm takes BBC shows off air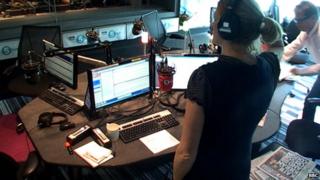 BBC Breakfast and BBC Radio 5 temporarily went off air on Friday morning following a fire alarm.
The BBC's buildings in Salford were briefly evacuated around 07:55 BST, with BBC Manchester also affected.
BBC One abruptly cut from a report on the Giro D'Italia to BBC World footage of a reporter swimming with crocodiles.
Sports presenter Mike Bushell later tweeted the alarm had apparently been triggered by "a steam cleaner", adding: "It wasn't me ironing my shirts".
On 5 live, listeners briefly heard an announcement telling staff to leave the building, after which a pre-recorded Ricky Gervais interview was played out.
Presenter Nicky Campbell took a photo as he joined staff gathering outside the station.
The station's controller Jonathan Wall also took to Twitter, saying: "Ricky Gervais seems to have been a big hit!
"Rarely has the emergency tape prompted so much conversation."
In response to a listener, he added that the tape was updated "every few weeks".
"We need to put something on there that is relatively timeless, so [we] avoid news tape that can date."
BBC Radio Manchester's breakfast presenter Allan Beswick was interrupted by a high-pitched alarm during a football phone-in on his show. While a voice advised him to "use the nearest available exit", he wondered aloud whether or not to leave the studio.
"As you can hear, there is a minor problem," he said. "This is almost certainly not an emergency."
He played music during the evacuation and, on his return, joked: "I hope they don't cut my money for being off for a while.
"You know the BBC - anything could happen."
Normal service was restored on all stations after 12 minutes, during which time BBC One had screened news reports from its BBC World channel.
"Apologies for the short interlude," said Charlie Stayt, as BBC Breakfast resumed.
On Twitter, the show posted a picture of the red evacuation light that had been triggered in the gallery.
"Well that was exciting," it said. "Turns out this tiny flashing light means there's a fire alarm."
The BBC said it was looking into the incident "in more detail".