Hugh Jackman has second cancerous growth removed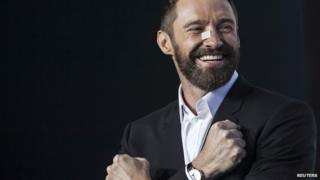 Australian actor Hugh Jackman has had a second cancerous skin growth removed from his nose.
The 45-year-old attended the premiere of his latest film, X-Men: Days of Future Past, sporting a bandage on his face in New York on Saturday.
The star told reporters he learned the results of a biopsy diagnosing the basal cell carcinoma (BCC) on Thursday, and had it removed immediately.
Jackman urged others to "get check-ups and wear sunscreen".
BCC is a slow-growing form of skin cancer and usually develops on skin exposed to the sun, accounting for about 75% of skin cancers.
The Oscar-nominated star revealed he was first diagnosed with a BCC in November, when he posted a picture of himself online after a similar procedure.
Jackman said his prognosis was good, saying: "It's all out now".
He reiterated his plea for fans to stay protected when out in the sun.
He said he hoped fans would listen to his X-Men character Wolverine - or at least the man who plays him - and be smart about their health.