Dominique Strauss-Kahn film to be unveiled at Cannes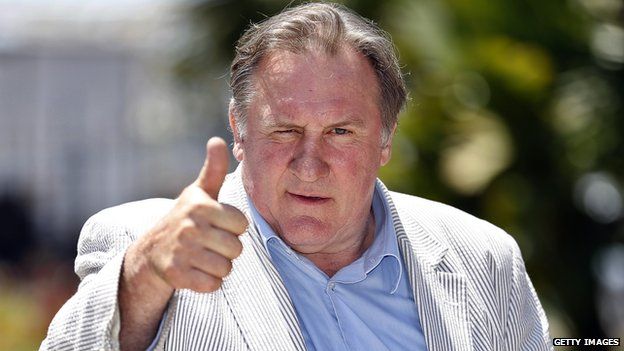 Gerard Depardieu's starring role as a disgraced politician based on Dominique Strauss-Kahn will be shown for the first time at the Cannes Film Festival.
The controversial Welcome to New York has been much-anticipated but will not be shown as part of the official festival programme.
Instead, it will be shown at midnight on Friday at a private beach screening.
It tells of how a French politician is accused of attempted rape in a New York hotel room.
Strauss-Kahn quit his role as boss of the International Monetary Fund in 2011 after being accused of a sex attack on a maid in a Manhattan hotel. Once seen as a French presidential hopeful, Socialist Strauss-Kahn also had to give up his political ambitions.
Charges were eventually dropped and Strauss-Kahn subsequently reached a settlement with the maid. Two other cases against him were also dismissed.
The two-hour film, in which Depardieu plays a character called Deveraux, was funded mostly in the US and the director Abel Ferrara is also American.
As such, the French-language production counts as being American.
It will be released in cinemas in countries outside France, including the UK, but in France it is being made available, at least initially, on pay-to-view websites.
"We'll get to target the widest possible audiences at a faster pace, with a smaller investment… and preserve some kind of curiosity around the movie before the press starts unveiling what's in it."
But in the same interview, Maraval also criticised the French political, TV and movie establishment, saying: "No French TV station wanted to finance us.
"Everyone warned us not to make this film, both our friends and our enemies."
He told Variety there was an "incestuous relationship" between the "media and political elites" in France, which made it impossible to make films about "current affairs".
Depardieu put some of his own money into the film and took a low fee of 100,000 euros (£81,000).
His wife is played by English actress Jacqueline Bisset.
Welcome to New York tells the story of how a French economics professor becomes a politician backed by his wife's millions, rises to fame and prosperity only to be brought down by accusations of rape.
A series of lurid claims have been made about Strauss-Kahn since his arrest in New York.
In July 2013, he was ordered to stand trial in France on charges of pimping in the city of Lille.
He has admitted attending sex parties there, but says he did not know that some of the women were paid prostitutes.
Related Internet Links
The BBC is not responsible for the content of external sites.