Roger Daltrey hoping to record new Wilko Johnson album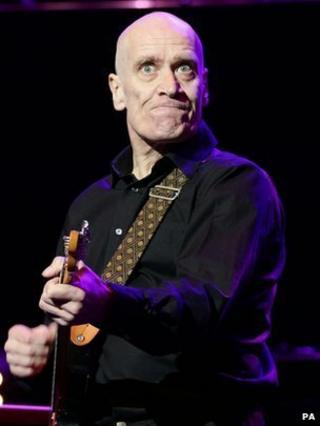 The Who's Roger Daltrey has said he will record another album with Wilko Johnson if the former Dr Feelgood guitarist recovers from cancer surgery.
Johnson was given 10 months to live after being diagnosed with pancreatic cancer at the end of 2012.
But he defied the doctors' predictions and had major surgery two weeks ago.
He recently recorded an album with Daltrey, who said: "He's in hospital. He's been in and out for two weeks, he's doing really well."
The pair's album Going Back Home has been in the UK top 20 since it was released at the end of March.
Speaking at the Radio Academy Awards in London on Monday, The Who singer said his collaborator had "thought he would be dead last October".
Johnson's pioneering nine-hour operation involved the removal of his tumour, pancreas, spleen, part of his stomach and small and large intestines as well as the removal and reconstruction of blood vessels relating to the liver.
Daltrey continued: "He's lost an awful lot of his body, but he's still here. Which is one up from being dead.
"He's getting out of bed and grunting, which is exhilarating for him I'm sure, and we look forward to him making a full recovery.
"It's going to take a long, long time. But if he does we're going to make part two of the record that we rushed out."
Asked whether Johnson could fully recover, Daltrey replied: "There is a chance, but it's an operation that's never been tried before. He's an experiment. His whole life has been an experiment."
After the surgery, Johnson's manager Lisa Climie said his medical team were "happy with his condition".
She said: "Although cautiously optimistic the team have to stress that it is very early days yet."