Roberto Orci 'to direct Star Trek 3'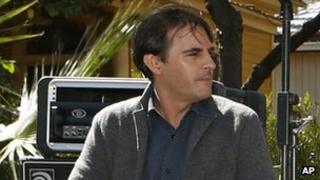 Transformers and Star Trek screenwriter Roberto Orci is to direct the next instalment of the Star Trek franchise, according to Variety.
Orci had been had been campaigning to replace JJ Abrams as director for some time, the report said.
Abrams, who directed the last two Star Trek films, is now at the helm of the new Star Wars film.
Star Trek 3 will be Orci's directorial debut.
Born in Mexico City, he has screenwriting and producer credits on projects such as the Transformers films, Cowboys and Aliens, The Amazing Spider-Man 2 and Mission: Impossible III.
He co-wrote both of Abrams' Star Trek films. He is also writing the story for the third instalment, along with JD Payne and Patrick McKay.
Casting details are not confirmed, but cast members including Chris Pine as Kirk and Zachary Quinto as Spock are expected to return.
2013's Star Trek Into Darkness made more than $467m (£278m) worldwide. It co-starred Benedict Cumberbatch as villain Khan.
The film was a follow-up to Abrams' 2009 series reboot of the franchise.