Malala Yousafzai portrait by Jonathan Yeo sells for $82,000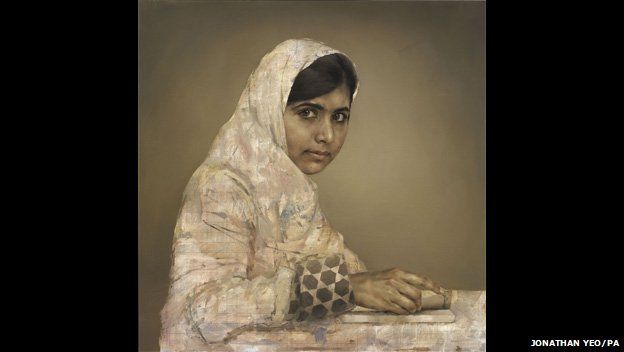 An oil painting of Pakistani schoolgirl and campaigner Malala Yousafzai has been sold for $82,000 (£49,000) at an auction in New York.
The 16-year-old was shot in the head in 2012 by the Taliban for campaigning for girls' education.
The artwork by British artist Jonathan Yeo was originally hung in the National Portrait Gallery in London last year.
Proceeds from the sale, which totalled $102,500 (£62,000) including buyer's premium, will go to the Malala Fund.
The painting formed part of Yeo's portraits of well-known figures at the National Portrait Gallery, which also included actors Kevin Spacey and Sienna Miller.
The artist said he wanted the portrait to capture "this extraordinary dichotomy" of someone with "enormous power and wisdom" but also someone who is still very young.
"Her birth instinct isn't self-pity but rather what else she could do to help other girls in her position," he said.
He added he depicted the schoolgirl doing homework to reflect the irony that "the simple everyday thing she's doing was what created the cataclysmic change in her life that nearly killed her".
The Malala Fund said sale proceeds would be given to Nigerian charities focused on education and advocacy for women and girls in the wake of the kidnapping of more than 250 girls by Nigerian militant group Boko Haram.
Last week, Malala said she was "shocked and saddened" when she heard the schoolgirls had been taken.
"I am very concerned about these innocent girls - my sisters - whose only crime was going to school and learning. I believe it is our duty to stand together in solidarity with their parents, families and relatives," she said.
Following the sale, a spokesperson for the teenager said: "Malala is delighted that her portrait raised so much at yesterday's auction and that the generosity of the buyer will allow the Malala Fund to help those working on the ground in Nigeria to support education for girls and women."
Related Internet Links
The BBC is not responsible for the content of external sites.