Timbuktu film at Cannes mixes tragedy, charm and humour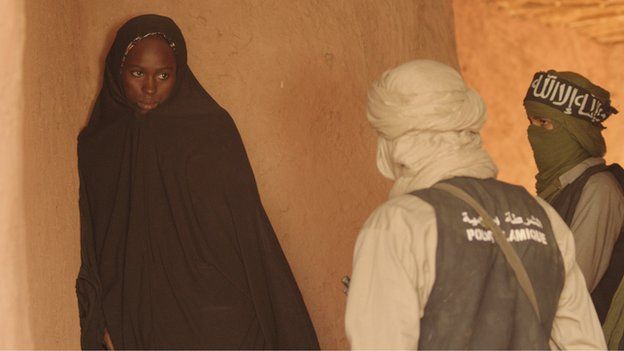 Timbuktu was one of the first films shown at this year's Cannes Film Festival and it remains one of the most praised. It's the work of director Abderrahmane Sissako, who grew up in Mali and it's the only film competing for the Palme d'Or made by an African director. Sissako says Timbuktu offers a warning about extremism - but it's also a touching personal drama.
At 53, Abderrahmane Sissako is one of the few African directors with an international reputation. He was born in Mauritania but grew up across the border in Mali.
His previous full-length film, in 2006, was Bamako, set in the Malian capital. Since then, Mali has been in the headlines mainly for the rise of hardline Islamists in the north and Sissako's new film addresses that phenomenon.
In 2013, the French government launched Operation Serval, to counter al-Qaeda linked groups in northern Mali. The make-up and motivation of these groups is complex.
Abderrahmane Sissako says his idea initially was to make a documentary about the influence of groupings whose foreign members may include Libyans and Algerians.
"But I think the documentary can be a difficult form," he says, speaking after his film's screening in Cannes.
"I thought at first I could just go with my video camera and talk to people about what they think of foreigners telling them they're bad Muslims if they play football or sing or don't wear modest clothing.
"Then I started to worry what might happen to them afterwards. The jihadists would find out what had been said so I realised no one would be free to speak their own mind."
But the director admits he also had concerns for his own safety and that of his crew.
"I planned to shoot in Mali. But when I was there for research there was a bombing in Timbuktu outside the army barracks and I worked out there could be a lot of disruption from the Islamists and maybe worse.
"In the end the filming was almost all in Mauritania where the authorities were helpful. But we also shot for two days in Timbuktu."
Timbuktu is beautifully photographed by Sofian El Fani, who filmed last year's Palme d'Or winner Blue is the Warmest Colour. The story is acted by a mix of professional performers and local people.
Kidane and Satima live a peaceful life tending their cattle, believing themselves safe from the extreme Islamists who have come to dominate the area.
Then Kidane takes a gun with him to argue with a fisherman about the killing of his best cow and a gripping tragedy ensues.
"I worry about Mali because I am a citizen of the world," says Sissako. "The fact I grew up there is secondary. It's appalling that a group of people can turn up and transform Islamic society, which for centuries has been tolerant and kind, into something so intolerant."
In the film, Arabic-speaking Islamists dominate local Tamasheq-speakers, in part simply by driving around toting their weaponry.
But Sissako says their initial foothold was made possible by faults in society in Mali and elsewhere in Africa.
"You can understand that, at first, some in Mali may have welcomed the jihadists. In a part of the world where people have no money and no work they played a social role and I try to show that in the film.
"I didn't write the jihadists as monsters: some may be rash or hypocritical or may act out of self-interest but they are human beings."
"The fact is the government in Bamako had more or less abandoned northern Mali.
"I am certain some seeing the film will say, 'Where are the police?' and 'Why is no one keeping order?' But the jihadists took over because there was no social structure to keep them out.
"One of the reasons I made the film was to encourage Mali's rulers to do more to deal with the problem of the north. I was delighted the film was chosen to compete here in Cannes: it has focused attention on an area the outside world finds baffling and maybe tiresome.
"The underlying problem is obvious and it's only the western world which can sort it out. Wealth is distributed completely unfairly around the world and that inequality creates areas of huge poverty such as Mali.
"Dire poverty provided fertile ground for the groups we show in the film. None of that is very hard to understand.
"The international community is now spending tens of millions of euros in Timbuktu and Kidal and Gao. If that investment had come years ago, many of the problems in northern Mali could have been avoided.
"It's a shameful failure by the west and of course it's not only in Mali. Just look at what's happening with Boko Haram in Nigeria: the details are different in each country but many of the same underlying problems are the same."
Yet Sissako's anger at the west shouldn't lead audiences to expect a political harangue on screen.
The film's achievement (and why it was met so warmly in Cannes) is that it's anything but a dry tract.
There's a charm to the performances and more humour than you would expect. The locations are attractive and, as tragedy takes hold, the story becomes genuinely moving.
Timbuktu is a French production with a small amount of funding from Mauritania. But Abderrahmane Sissako says he's hopeful a more developed film industry will emerge in the region.
"It's another example of the lack of resources there. There are few film-making resources in that part of the world. In Mali, there are virtually none.
"And there is almost nowhere in Mali to see a film either, even in the capital Bamako.
"I would love Malians to watch Timbuktu but I just make the films. I'm glad to say it's somebody else's job to provide a place actually to see them."