Godzilla tramples US box office rivals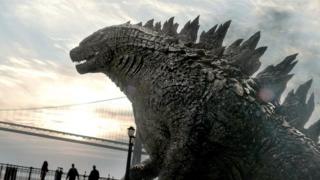 Monster movie Godzilla has topped the US box office with the second biggest opening of the year so far, beating The Amazing Spider-Man 2's debut.
The 3D film took $93.2m (£55.4m), putting it just behind Captain America: The Winter Soldier, which took $95m (£56.4m) when it opened in April.
The new take on the 1954 Japanese original stars Bryan Cranston, Aaron Taylor-Johnson and Elizabeth Olsen.
Last week's top film Neighbors was in second place with Spider-Man third.
Risque comedy Neighbors, starring Seth Rogen, Zac Efron and Rose Byrne, earned $26m (£15.5m) in its second week at the US and Canada box office.
Andrew Garfield's second outing as Peter Parker in The Amazing Spider-Man 2 took $17m (£10.1m), according to estimates from Rentrak.
In fourth place was new entry Million Dollar Arm, a Disney sports drama starring Mad Men's Jon Hamm, while Cameron Diaz's comedy The Other Woman was in fifth.
Director Gareth Edwards' Godzilla has fared better than previous attempts at bringing the monster to Hollywood, notably Roland Emmerich's 1998 film, starring Matthew Broderick, which was nominated for the Golden Raspberry Award for worst film.
The latest take stars Taylor-Johnson as a naval officer battling a mutant monster from Hawaii to San Francisco. Its success could now spark a series according to film studio Warner Bros.
"We have a franchise in the making, and we're looking at sequels as we speak," revealed Dan Fellman, president of domestic distribution for the company in the US.