Belle: 'Politics, art, history and race tied in a big bow'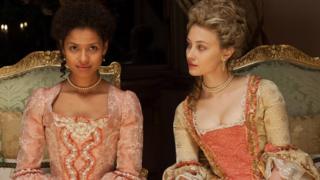 In Scone Palace in Perthshire, hanging among the Van Dycks and Teniers and landscapes and paintings of lords and ladies, is a portrait of two young women. One is seated, a tender hand laid upon the arm of her companion who carries a fruit basket, a wry smile creeping across her lips.
It would be rather unspectacular, save for the fact that the portrait was painted during the 18th Century and the fruit bearing woman - in every detail the seated woman's equal - is black.
The painting, attributed to Johann Zoffany, shows Lady Elizabeth Murray and her cousin Dido Elizabeth Belle - and it is Dido's story which has been adapted for the big screen for the sumptuous new costume drama Belle.
"I'm fairly interested in art but I didn't know anything about it at all until Damian (Jones, producer) sent me a postcard print of the portrait," explains the film's director Amma Asante.
"Although it's extraordinary, it isn't a patch on going to Scone Palace and seeing the real thing. It is luminous.
"I went with my 6ft 1in production designer and we stood in front of it and just cried. It was an open day and other people were walking about and there were these two people standing there sobbing, it must have looked weird."
Belle is the second feature from the director, her first - sink estate drama A Way of Life - saw her honoured with a Bafta in 2005. Belle is a different beast entirely, a lavishly produced, period costume drama.
"When I looked at the painting, I saw politics, art, history and race all tied in a big bow but set in an Austen-esque world and that, for a storyteller, is a gift," explains Asante.
"The real journey started with the questions - Who is she? Who is the white girl sitting next to her? But even more importantly - who commissioned the painting?"
The commissioner was William Murrray, the Scottish-born Attorney General for England and Wales and the 1st Earl of Mansfield.
Played in the film by Tom Wilkinson, Lord Mansfield was the most powerful judge of the 18th Century and, along with his reform of English law, he moved England on the path to abolishing slavery.
"For an aristocratic painting like that, someone had decided these two should be immortalised together and what Lord Mansfield did, having them painted together, to me said he deliberately wanted to show the equality - it was incredible."
The two women were cousins, Belle, played by Gugu Mbatha-Raw, was the illegitimate daughter of Admiral Sir John Lindsay, the nephew of Lord Mansfield, while the seated Elizabeth was the daughter of David Murray, the future 2nd Earl of Mansfield.
They were raised by Lord Mansfield, an adoptive-style relationship, in Kenwood House in Hampstead, London.
The film mixes actual historical fact with a degree of dramatic licence. Though Belle did marry after the death of her uncle, Asante has introduced a love story with a noble young law clerk and abolitionist.
According to the director, the fictional aspects of the film help to bring the bigger issues together.
"I wanted to take her from girl to woman, I wanted her to have a political awakening and have there be a journey to this confident person you the see in the painting.
"On the surface it's two love stories, it's a romantic love story and a paternal love story, it's a story between father and daughter and the power of love that doesn't necessarily have to do with a direct bloodline."
Another historical event which drives the story is the real life massacre of slaves on board a slave ship called the Zong in 1781.
Lord Mansfield presided over the legal case, finding in favour of insurers who refused to pay the ship's owners, who claimed the murders of more than 100 slaves were necessary for the survival of the crew after drinking water ran low.
"At that time, England is on the cusp of change," explains Asante. "Slavery, in the grand scheme of things, is about to be abolished, marriages for love rather than status is coming in and Lord Mansfield sits in the middle.
"He's got one foot in the status quo but he's got another foot in the progressive camp."
The screenplay for Belle was written by Misan Sagay, inspired by the painting during her time as a medical student at St Andrews University.
Belle has already previewed to positive reviews on both sides of the Atlantic but the patronage of one of the most important women in the US certainly won't harm the movie's chances there.
"I was at a Q&A in Santa Barbara and I saw people re-tweeting something that Oprah had said.
"I was in Philadelphia a few days later and I got an email saying, 'Oprah loves the film and she wants to have you at her house to have lunch to celebrate Belle.
"I beat up the bed, punched the air, it was a little bit crazy. My husband started to cry, though he doesn't like me saying that.
"It was a really great feeling, I rang Gugu and she was like, 'It's happening! She left a message on my answer phone!"
Central to the film is the performance of the lead actress Gugu Mbatha-Raw, declared by Winfrey to be "a star".
"I think what Oprah says goes frankly," says Asante. "I like to think stars are stars before the world recognises them because they have a quality you can't describe which they bring to their performance and she does that.
"Gugu was perfect for the film because she's smart and has an innate sense of grace, she has to go from child to woman and the weight on her shoulders is incredible."
Belle opens in the UK on 13 June.