Godzilla demolishes UK box office competition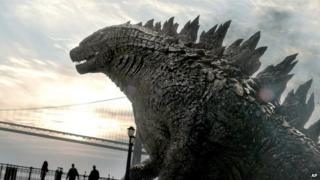 Monster movie Godzilla has topped the UK box office in its opening weekend, taking £6.4 million for the 3-D reboot.
Starring Breaking Bad's Bryan Cranston, Aaron Taylor Johnson and Elizabeth Olsen, it knocked last week's number one Bad Neighbours into second place.
The Seth Rogan and Zac Efron comedy took £1.4m, while The Amazing Spider-Man 2 dropped into third place in its fifth week of release.
Godzilla also topped the weekend's US box office with $93.2m (£55.4m).
It marked the second biggest US opening of the year so far, beating the The Amazing Spider-Man 2's debut and landing just behind Captain America: The Winter Soldier, which took $95m (£56.4m) when it opened in April.
Godzilla's UK opening coincided with one of the hottest weekends of the year so far, which could have contributed to the fact that it took less than Bad Neighbours' opening the previous weekend, at £8.4m.
Cameron Diaz comedy The Other Woman was in fourth place at the UK box office this weekend.
The Two Faces of January, starring Viggo Mortensen, Kirsten Dunst and Oscar Isaac, was the week's only other new release to make the top ten, taking £328,000.
The film is adapted from a novel by Patricia Highsmith, who wrote The Talented Mr Ripley.
UK and Ireland box office
Godzilla - £6.4m
Bad Neighbours - £1.4m
The Amazing Spider-Man 2 - £450,000
The Other Woman - £447,000
The Two Faces of January - £328,000
Source: Rentrak