The paintings 'made better with cats'
By Genevieve Hassan
Entertainment reporter, BBC News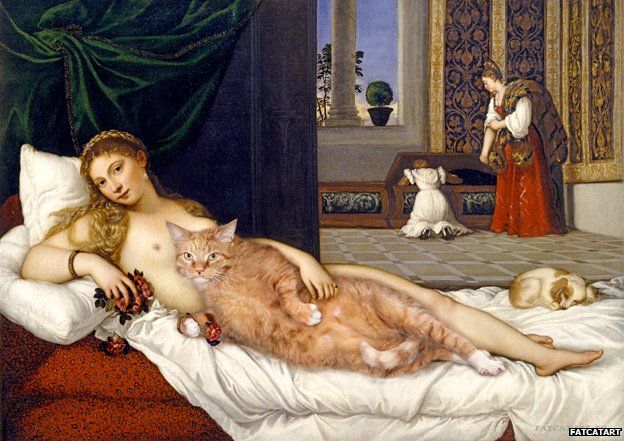 Russian artist Svetlana Petrova has become known for her online artwork of famous portraits featuring her big ginger cat Zarathustra.
Ahead of a new exhibition bringing the internet meme into a physical setting, the artist tells the BBC why she first created the artwork and how digital technology is helping to create new art forms.
"I lost my mother in 2008 and she left me Zarathustra. I got horrible depression after her death and for two years I was unable to do something creative. By chance a friend asked me 'why don't you make an art project with your cat because he's so funny'.
"I've had cats before and included them in my work, like playing in theatre shows and I've made costumes for them. But I thought, 'What can I do with Zarathustra, because my mother spoilt him and he's so fat'.
"Zarathustra likes posing and is a really intelligent cat. He likes to lie on his back and make strange faces like he's speaking with somebody, so I began to take photos of him and inserted them into paintings.
"I liked the result so I sent it to some friends, other artists and galleries. Everyone laughed so much, so I made a website, but then forgot about it because I had another project.
"After a few months, another friend saw my cat work in my albums and asked why I had it. I told him it was my cat and he said: 'Your cat is all over the internet!'
"Now we have special photo sessions with a professional photographer and a team who entertain Zarathustra. But sometimes he's not in the mood and I have to wait months until he agrees to make the right face.
"I see his pose and imagine what painting he can enter, or I find a painting and try to make him play that role of the character I see in the painting.
"Sometimes it's a character in the original painting, sometimes it's an added character.
"Like with the Mona Lisa - in the original photo, Zarathustra was really sinking in my hands on my lap and sliding because he's too big - it makes Mona Lisa look like a modern girl who's taking a selfie with her cat.
"I also now make digital paintings - I use high-resolution digital reproductions of the artworks and insert the cat in the style of the painting.
Then I print them on natural canvas in the size of the original and paint over them with textured gels and oils and match the colours as closely as possible.
"Sometimes people don't realise it is not the original painting - my friend went to the airport with a gift I gave her of one of the artworks in a museum-style frame and it was very hard for her to prove to customs it wasn't an old painting.
"She tried to explain: 'Do you think an 18th Century painter would really draw cats instead of horses?' She had to scratch it with her nails to show it was printed underneath.
"People usually think art is something they cannot touch, but there is a lot of art in the viral internet world - like internet memes. There is a new trend and generation of artists and critics thinking about it.
"For me it was a possibility to create something that is beautiful and make people investigate something new and interesting, and try and create some art themselves.
"Digital technology gives people the opportunity to make art and museums should be more attentive to it."
Russian Extremes - From Icons to I-Cats runs at The Barn at Stonehill House, Abingdon, Oxfordshire, from 31 May to 5 June.
Related Internet Links
The BBC is not responsible for the content of external sites.