Stones manager Loewenstein dies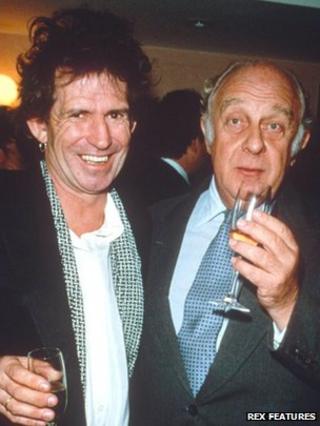 Prince Rupert Loewenstein, the Bavarian banker credited with turning the Rolling Stones into the world's richest rock band, has died at the age of 80.
Loewenstein, who became a close friend of Mick Jagger and godfather to his son James, was the band's financial manager for nearly 40 years.
It was on Loewenstein's advice that the Stones became tax exiles, decamping to the South of France in the 1970s.
Yet he famously wrote he was "never a fan of the Stones' music".
In an autobiography published last year, Loewenstein wrote: "To many outsiders, it must seem extraordinary that I was never a fan of the Stones' music, or indeed of rock and roll in general.
"Yet I feel that precisely because I was not a fan… I was able to view the band and what they produced calmly, dispassionately, maybe even clinically - though never without affection."
Parting ways
Part of the royal house of Wittelsbach, Loewenstein was born in Majorca in 1933, but educated in Britain, studying history at Oxford before going on to work in the City.
Jagger met Loewenstein in the late 60s when he was the head of a small London merchant bank.
The singer asked for his help in extricating the band from their contract with then-manager Allen Klein, who was taking 50 per cent of their recording royalties.
It was the beginning of a partnership that would last until 2007 and helped Jagger amass an estimated fortune of £200 million.
Aside from establishing their status as tax exiles, he was responsible for turning the Stones into a global brand, copyrighting the infamous tongue logo and establishing tour sponsorship and advertising deals with key companies.
However, the relationship turned sour towards their end of their business dealings, when Jagger rejected several commercially lucrative proposals set up by Loewenstein, including a musical collaboration with Cameron Mackintosh.
The band and Loewenstein eventually parted ways seven years ago.
Jagger decried the publication of Lowenstein's autobiography A Prince Among Stones last year.
"Call me old-fashioned," the singer was quoted as saying, "but I don't think your ex-bank manager should be discussing your financial dealings and personal information in public."
The prince died earlier this week following a long illness. His funeral will be held in London on Friday.