Dame Kiri attacks 'bullying' opera critics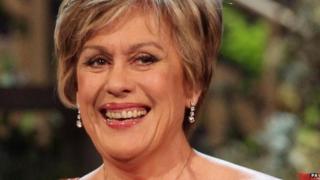 Dame Kiri Te Kanawa has branded opera critics "bullies" after Glyndebourne singer Tara Erraught was described as "stocky" and "dumpy" in the press.
The mezzo soprano was criticised by several male reviewers after making her debut as Octavian in Der Rosenkavalier last weekend.
Dame Kiri told BBC Radio 4 she thought Erraught was "absolutely gorgeous" and advised her to "burn the papers".
"Don't listen to a single person and get on with your life," she said.
Speaking on the Today programme, Dame Kiri said she thought a "costume disaster" could have contributed to Erraught's bad reviews for her performance as Count Octavian Rofrano - a male role traditionally played by a female.
"Take that wig off, put her hair in a ponytail, put her in some jodhpurs and some very lovely tights to give her lovely slim legs - look at the coat, it's a shocker!," she advised.
"You have to understand [former Glyndebourne chairman] Sir George Christie just died so the opera house is in serious mourning - so maybe they took their eye off the ball for a while.
"I hope they will re-dress her, that would be a kindness. Please don't destroy, her it's cruel. That's bullying - this is very serious."
The Independent's Michael Church, who had described Erraught as "a dumpy girl", told Radio 3's In Tune he had since removed the phrase from his review.
"I do regret slightly using it but the whole point of it was not to make a personal attack on her, it was really to attack the directorial notion," he said.
"The director, I think, gave her an impossible task - she is just not made to sing this role.
"She has a very engaging personality, a fine voice. She is very talented, but this a role which she is not really made to sing.
"I did point out the casting was false and a great mistake. I do regret giving her personal hurt but the direction was designed to make her seem dumpy, to make her seem clumsy, not boyish at all."
The Times' Richard Morrison said his description of the singer as "unsightly and unappealing" had been taken out on context.
Answering his critics on Thursday, he said he had been describing "the characterisation of Octavian, not the woman playing her - a distinction that seems lost on many people".
He argued audiences expect "dramatic credibility" saying: "They get that in films, on TV and in the spoken theatre and don't see why exceptions have to be made for opera."
However he went on to apologise to Erraught: "Several musicians I count as close friends tell me that what I wrote would have upset greatly the promising young singer who took the role of Octavian. I regret that.
"Sometime critics - and indeed journalists, bloggers, tweeters - need a reminder of how much their words can hurt and how carefully they should be used, even when they are expressing their observations and opinions as accurately as they can.
"I've had a pretty sharp reminder this week."