Damien Hirst skeleton raises 11m euros for Aids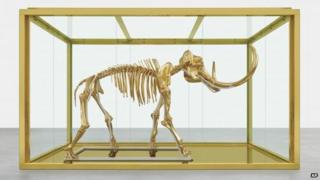 A gilded mammoth skeleton by Damien Hirst has sold for 11m euros (£8.9m) at an annual Aids fundraiser at the Cannes Film Festival.
The 10,000-year-old skeleton, clad in steel, was bought by Ukrainian businessman Leonard Blavatnik.
It crowned a triumphant night for Aids research charity Amfar, with their gala raising a record 27.8m euros (£22.5m).
A trip to space with actor Leonardo DiCaprio - on Branson's Virgin Galactic - fetched 700,000 euros (£567,000).
"Who wants to leave planet Earth with Leo DiCaprio," actress Sharon Stone, who hosted the auction, asked the crowd.
The gala, held at the Hotel du Cap outside Cannes, was attended by stars such as Jessica Chastain, John Travolta, Justin Bieber and Harvey Weinstein, with Robin Thicke and Lana Del Rey performing at the event.
Ahead of the live auction, Hirst's artwork - Gone but Not Forgotten - was displayed in a giant golden display frame in the hotel grounds.
Hirst, who donated two other art pieces, was among those attending.
Asked what he would do with the skeleton, winning bidder Blavatnik told Reuters: "I don't know yet. It was unexpected."
The auction, which included designer dresses, jewellery and a pair of Karl Lagerfeld's gloves, also saw a Picasso sketch fetch 380,000 euros (£308,000) and an Andy Warhol print of Marilyn Monroe sell for 350,000 euros (£283,000).
Stone ended the evening by thanking the 900 invitation-only guests for attending and supporting Aids research.
"I know all of you have lost someone to Aids," she said. "Now we are at the beginning of the end of Aids."
The Cinema Against Aids gala has raised approximately 88m euros (£71m) in the 20 years since it began.