Early Dali work confirmed by experts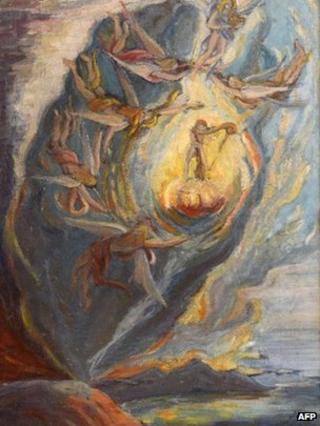 An oil painting bought more than 20 years ago for about 150 euros (£121) from a Spanish antique shop has been found to be the work of Salvador Dali.
Experts believe The Intrautirine Birth of Salvador Dali was painted by the artist as a teenager in 1921.
"The painting can be considered the first surrealist work of Dali," Dali expert Nicolas Descharnes said.
Tomeu L'Amo, who bought the painting in Girona in 1988 for 25,000 pesetas, said he was "very happy".
"When I saw its colours I suspected it was a Dali. That was my opinion but I did not have proof," he said.
The painting depicts angels floating in the sky above a volcano and may have been referenced by Dali in an earlier quote.
Although it bears the artist's signature and a short dedication by Dali, it was not believed to be by the artist because it is dated 1896 - eight years before he was born.
'Laughing in his grave'
But following nearly 10 years of tests and analysis including ultraviolet radiation and X-rays, experts have concluded the painting was created by him.
"Dali must be laughing in his grave at the thought he managed to fool everyone for so many years," L'Amo told a press conference in Madrid.
"I was very happy, I felt like a kid in a candy store," he added.
Infrared photography revealed thick brushstrokes in blue and black pencil used to create figures - a technique used by Dali in other works - Barcelona's Frederic Mares museum discovered.
Handwriting experts also concluded the script used in the 10-word dedication coincided with the handwriting and signature the artist used in the 1920s.
Written in Catalan, the dedication includes a spelling mistake frequently made by Dali.
The painting was sold earlier this month for an undisclosed amount to an anonymous collector.
Dali died in Spain in 1989, aged 85.