Star Wars: 'I want to get Leia right'- Carrie Fisher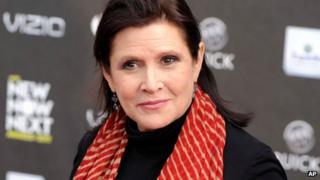 Star Wars actress Carrie Fisher has said the latest film in the Hollywood franchise will let her "get Princess Leia right this time".
Speaking at the Hay Festival in Wales, Fisher said of her role: "I think less British. I looked a little pretentious faking the accent."
The actress, now 57, was 19 when she was cast in the 1977 film.
She will join the original film's stars Harrison Ford and Mark Hamill in the new movie to be directed by JJ Abrams.
Fisher joked she and her fellow actors "all look a little melted" .
"It is good to have us all in a room because it's unique. I mean, I don't suppose they have reunions for the Gone With The Wind gang," she continued.
"I think people should be forced to do it 30 years on, classic films that they had, either to make another film or put together an anecdote."
Fisher also joked she would revisit her character's famous hairstyle, in two buns on either side of her head in the film, due to be released in time for Christmas 2015.
"That hairdo can never really be repeated without gales of laughter," she told the audience. "I've begged them to put the hair back on in grey and just catch me cooking with the hair, like Granny Leia."
New cast members for Episode VII include Max von Sydow and Girls actor Adam Driver.
British newcomers John Boyega and Daisy Ridley will also play major roles in the film.
The script for the new film, which is being co-written by Lawrence Kasdan - who wrote the Star Wars sequel The Empire Strikes Back, has been kept under wraps.
Fisher refused to be drawn, saying: "I would get in trouble no matter how I answer that question."