Rolling Stones resume tour in Oslo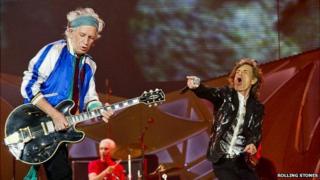 The Rolling Stones returned to the stage on Monday for their first show since the death of Mick Jagger's girlfriend L'Wren Scott in March.
Playing to a sold-out crowd of 23,000 at Oslo's Telenor Arena, Jagger did not mention Scott, but said he was happy to be back on the stage.
"We first played Oslo in June 1965," he said. "We played nine songs - we've played more than that already!"
The two-hour set included hits such as Satisfaction and Brown Sugar.
"Condensation literally ran down the walls," said Swedish newspaper Goteborgs-Posten in its review.
"Despite all the years, the size of the arena and the giant video screens, the Rolling Stones are still that little blues-rock band from the clubs in London," said writer Johan Lindqvist.
Tabloid newspaper Dagbladet also praised the band's "scrawny and seedy" performance, saying the Stones sounded like "a garage rock band coming straight out of the rehearsal room".
"It's rock and roll and we like it."
"The whole band sounded hungry," agreed Hakan Steen in Aftonbladet.
Mick Jagger was "hungry and on tiptoe, with light-footed dance steps," he added, concluding: "This should not be expected of a man who is soon to turn 71".
"It was a great rock and roll show," said Jan Martin Schultz, 55, who attended the concert with several friends.
"I saw them in Gothenburg in 1982, and I thought then they seemed old. They didn't seem old tonight."
In March, The Rolling Stones interrupted their tour and later rescheduled all their Australia and New Zealand tour dates following the news that Scott - Jagger's partner since 2001 - had committed suicide.
Jagger said on his website just after her death that he was struggling to understand "how my lover and best friend could end her life in this tragic way".
Some reviewers said that, although he did not mention the tragedy on stage in Oslo, it lent a poignancy to songs like Worried About You and Miss You.
The band spent a week in the Norwegian capital rehearsing for their comeback at Filmparken, a film studio complex in the suburbs.
A dress rehearsal also took place at the Telenor arena on Saturday, attended by the E Street Band's Steve Van Zandt - who was in town filming the Netflix series Lilyhammer.
"They sounded absolutely stunning," he told Dagbladet. "I'd rather not reveal too much, but let me just say one thing: I have never heard them better."
Although Van Zandt was pictured backstage with Keith Richards on Monday night, the guitarist did not take to the stage during the show.
The set was broadly similar to the Stones' 50th anniversary shows last year, but included a couple of rarities, including Can't Be Seen and You Got The Silver, both with Keith Richards on vocals.
Fans were also given the opportunity to vote for a song before the show. Jagger told the audience the favourite had been A-ha's Take on Me, but it was too high pitched for him to sing.
Instead, the band launched into Let's Spend the Night Together, which they have not played live since 2007.
The "14 On Fire" tour continues in Portugal on Thursday, where the band headline the Rock In Rio festival.
Concerts in Switzerland, Israel and the Netherlands follow, while the rescheduled Australian and New Zealand dates beginning in Adelaide on 25 October.