Brian May confirms new Queen album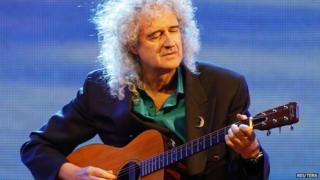 Brian May has revealed plans to release a new Queen album featuring previously unreleased tracks sung by Freddie Mercury.
The guitarist told BBC Radio Wales the album, called Queen Forever, will be a compilation record which will include the new material.
May said the songs were originally recorded in the 1980s, "when we were in full flight".
The album is expected to be released at the end of the year.
"I think people will enjoy it," May told Wynne Evans at the Hay Festival.
"With Freddie singing and all of us playing... they're quite beautiful. It's kind of the big, big ballad and the big, big epic sound."
May said he was able to recreate the band's old sound - despite the recordings being almost three decades old - thanks to modern sound editing software.
"We only had scraps, but knowing how it would've happened if we'd finished it then, I can sit there and make it happen, with modern technology."
May also revealed he had been working on a sequel to the hit Queen musical We Will Rock You, which is due to end its West End run on 31 May after 12 years.
Written by Ben Elton, the musician said the follow up was "very naughty" and "naughtier than the first one".
"We've already very secretly and quietly workshopped it, which means that you stand it up, you get people to sing and act it," he said.
"And everybody loved it, so we're looking for a theatre and we hope to have a sequel out there at some point.
"More than this I cannot say."