Malorie Blackman 'sadness' over Maya Angelou death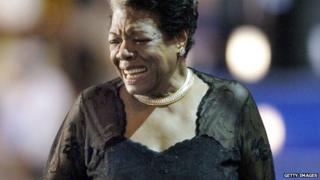 UK children's Laureate Malorie Blackman has spoken about her "incredible sadness" at the death of poet and activist Maya Angelou at the age of 86.
Speaking to the BBC, Blackman said Angelou left a "great legacy":
I have incredible sadness at her passing. She had a good innings but was such an inspiration.
She's like Nelson Mandela, you think they're going to live forever. She was so inspirational with her stories and poems.
Her quote "Courage is the most important of all the virtues because without courage, you can't practice any other virtue consistently" - it was things like that, that resonated and stayed with me.
I saw her in concert twice but was never fortunate to meet her. But I got to read and see her work and she was such an amazing performer. She was a woman full of wisdom - she didn't get old, she got wiser and wiser. She's left behind a great legacy.
Her impact came with her poems like Still I Rise, which says life knocks you down but you get up again. It was about having courage as a person, as a woman, and as a black woman for me.
I think she was such a phenomenal person, who didn't let life beat her and she got stronger and wiser and that's a good message for all of us.
It's a sad day, but at least we have her words and work left behind.