Pop singer Foxes cast in Doctor Who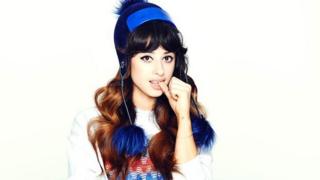 Pop singer Foxes is to perform a song and appear in the new series of Doctor Who, the BBC has confirmed.
The star is one of several celebrities to cameo in the new series, alongside Frank Skinner and Keeley Hawes.
"It all came about from a chance meeting," said the singer, 25. "I was playing a gig and got chatting to the show's production team.
"I was telling them how much I loved Doctor Who and next thing they invited me to be on it!"
The new series, starring Peter Capaldi as the Doctor, will begin in August.
Foxes, whose real name is Louisa Rose Allen, has scored several top 10 hits this year with the dance-pop tracks Let Go For Tonight and Holding On To Heaven.
Last year, her Grammy-nominated collaboration with dance producer Zedd, Clarity, won a platinum disc in the US. It is due to be re-released in the UK on 9 June.
"We are completely thrilled that the amazingly talented Foxes is joining us on board ... well, you'll see," said Doctor Who's executive producer, Steven Moffat.
Revealing her casting on BBC Radio 1, the singer said: "I filmed it yesterday. It feels mental, because it's such an iconic show and I don't think they've really had musicians on the show in the past."
"I got to go into the Tardis, which was exciting.
"I sound like a proper geek now, but all the controls in the Tardis actually move. So it's real!"
She told Nick Grimshaw she had written a song specially for the episode - which marks her acting debut, outside of school plays.
Reaction to her casting spread across Twitter after the Radio 1 interview.
"Of course, that's what was missing... Doctor Who has always lacked a singer songwriter element," wrote Kieron Moyles.
"This is great news," said a Doctor Who fan calling himself King John II.
"If @iamfoxes sings Clarity, I think I'd combust."
While author Jenny Colgan noted the star's resemblance to the Doctor's companion, played by Jenna Coleman.
"Is Foxes going to be Clara's twin?" she asked.