Portrait becomes Australia's first Nazi art restitution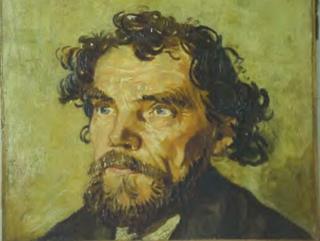 A portrait which was once attributed to the Dutch master Van Gogh has become Australia's first successful Nazi restitution claim.
Melbourne's National Gallery of Victoria has agreed Head of a Man, which it has owned for 74 years, belongs to two South African sisters.
They are the heirs of original owner, Jewish industrialist Richard Semmel.
Nazis forced him to sell the portrait in Amsterdam in 1933 when his art collection was dispersed under duress.
The unnamed women inherited the estate after Semmel left his lost art collection to their grandmother, who was his companion after the death of his wife.
The sisters have been attempting to track down the collection, including Head of a Man by Vincent van Gogh, for the past decade and their lawyer lodged a claim with the gallery last December.
However, in 2007 experts at the Van Gogh Museum in Amsterdam ruled that the painting was actually by an unknown contemporary, after its authenticity was questioned by British art critics.
Their report found there were "more differences than similarities between the portrait in Melbourne and Van Gogh's Paris and Antwerp oeuvre, and the sum of the anomalies makes it plain that the work cannot be attributed to Van Gogh".
The NGV accepted the decision, which slashed the painting's value from AUS $5m (£2.78m) to a reported AUS $10,000 (£5,558).
'Moral issue'
The gallery has now written to the sisters' lawyer, Olaf Ossmann, to say it has established they are the rightful owners of the painting and released a statement explaining its decision.
"The NGV takes its responsibilities seriously in regard to determining the history of ownership of works of art, including the period from 1933 to 1945 when systematic looting, the confiscation of artworks, and persecutory anti-Semitic policies occurred under Nazi rule," it said.
"As well as being guided by international law and the Washington Conference Principles to arrive at this decision, we also see this as a moral issue, on which it is important to take a strong position."
The 1998 Washington Conference Principles, which Australia has signed, mean that original owners and heirs are entitled to reclaim art looted or hurriedly sold in less than ideal conditions.
The gallery originally bought the painting in 1940 from English Lieutenant Colonel Victor Alexander Cazalet for £2,196, several owners after Semmel.
NGV director Tony Ellwood told The Australian newspaper it had been taken down from display on Tuesday night and is now "in storage".
The heirs have negotiated financial settlements for some of the other paintings they have successfully claimed, but it is not yet known if they are prepared to do so for Head of a Man and the gallery is not entitled to compensation.
Australian publication The Age said the heirs were open to talking about where the painting would be displayed, including the possibility it could stay at the NGV if they decided to sell.