Vincent van Gogh 'live ear' on display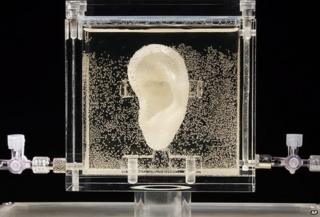 A copy of Vincent van Gogh's ear grown using genetic material from one of the Dutch artist's relatives has gone on display at a German museum.
Artist Diemut Strebe made the replica using living cells from Lieuwe van Gogh, the great-great-grandson of Vincent's brother Theo.
The cells were then shaped using a 3D printer to resemble the ear Van Gogh is to said to have cut off in 1888.
The exhibit at the Centre for Art and Media in Karlsruhe runs until 6 July.
The ear was grown from tissue-engineered cartilage at Boston's Brigham and Women's Hospital and was made identical to Van Gogh's using computer imaging technology.
It is being kept alive inside a case containing a nutrient solution which could, in theory, last for years.
"I use science basically like a type of brush, like Vincent used paint," Strebe told The Associated Press.
The US-based artist had hoped to use genetic material belonging to Van Gogh himself, however the plan was scrapped after DNA extracted from an envelope was found to belong to someone else.
However Strebe said Lieuwe was keen to help with her "living art piece", saying: "He loved the project right away."
As Lieuwe and Vincent van Gogh share around a 16th of the same genes, the ear contains natural genetic information including the Y-chromosome which is passed down the male lineage.
Strebe also has work under way with a female relative of the artist to include mitochondrial DNA - passed down the mother's line - for future installations.
Visitors to the exhibition will be able to speak into the ear, where a computer will then process the sound, convert it to simulate nerve impulses and produce a crackling sound.
Strebe plans to present the work in New York next year.