Oliver Stone to direct Edward Snowden film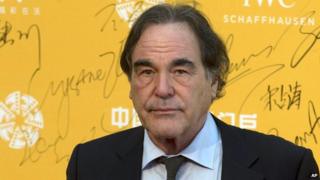 Oscar-winning film director Oliver Stone is to write and direct the story of Edward Snowden, the fugitive US intelligence leaker.
The film will be based on the book by Guardian journalist Luke Harding, The Snowden Files: The Inside Story of the World's Most Wanted Man.
Harding's book is an account of events surrounding the Guardian's reporting of Snowden's disclosures last year.
Stone said: "This is one of the greatest stories of our time."
He added that making the film would be "a real challenge".
Stone is one of Hollywood's most controversial and provocative film-makers, renowned for political dramas such as JFK, Platoon and W - a biographical drama based on the life of former US President George W Bush.
Filming is due to start before the end of the year. Harding and other Guardian journalists will be production and story consultants on the project.
Guardian Editor-in-chief, Alan Rusbridger, said: "The story of Edward Snowden is truly extraordinary, and the unprecedented revelations he brought to light have forever transformed our understanding of, and relationship with, government and technology. We're delighted to be working with Oliver Stone and Moritz Borman on the film."
The Snowden scandal broke in early June 2013 when the Guardian newspaper reported that the US National Security Agency (NSA) was collecting the telephone records of tens of millions of Americans.
Shortly afterwards, the Guardian revealed that ex-CIA systems analyst Edward Snowden was behind the leaks about the US and UK surveillance programmes.
He has been charged in the US with theft of government property, unauthorised communication of national defence information and wilful communication of classified communications intelligence.
Snowden fled to Russia via Hong Kong following the revelations last year.
Stone described Snowden as a "hero" in August last year.
Speaking at a news conference in Tokyo, the film-maker said: "Edward Snowden is a hero. Because he did this not for profit, not to give, exchange, give secrets away that could hurt our country supposedly... He is doing it out of conscience."
Stone came to prominence as a film-maker in the 1980s with films like Salvador, Platoon and Wall Street. He won Oscars for directing Platoon and Born on the Fourth of July, and for writing 1978's Midnight Express.
Among his other films are Wall Street: Money Never Sleeps, World Trade Center, Nixon, Natural Born Killers and The Doors.
The Snowden film comes shortly after Benedict Cumberbatch starred as Wikileaks founder in the drama The Fifth Estate.
Released last October, the movie suffered one of the worst box office openings of 2013, taking just $1.7 million (£1 million) in its first weekend of release in the US.