Maya Angelou: Private memorial planned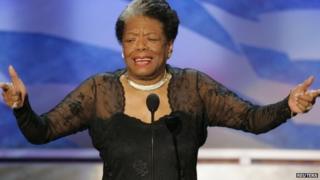 The family of Maya Angelou are to hold a private memorial service for the author, poet and activist on Saturday in North Carolina.
The service will be held at Wake Forest University's chapel in Winston-Salem, where Angelou worked as a professor.
Although it will be restricted to friends and family, the university said it would stream the service for live public viewing.
Angelou's family will later hold additional celebrations across the US.
They have asked the public to make donations to the Maya Angelou Center for Health Equity in lieu of bringing flowers to the campus.
Media mogul Oprah Winfrey was seen at the chapel on Monday, helping to plan the memorial.
Last week, the star told Entertainment Tonight she would pay tribute to her long-time friend at the service.
Angelou died at her home in Winston-Salem, where she lived for three decades, last Wednesday, aged 86.
She wrote more than 30 books including her famous memoir, I Know Why the Caged Bird Sings, which charted a childhood of oppression and abuse in the Deep South in the 1930s.
She had served as the Reynolds Professor of American Studies at Wake Forest from 1982.
According to the university, she had planned to teach a course titled Race, Culture and Gender in the US South and Beyond later this year.