Pharrell offers Foxes support slot after Happy cover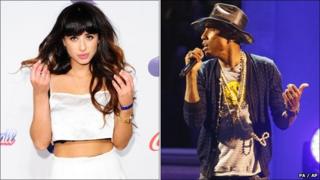 Foxes says Pharrell Williams asked her to support him on tour after hearing her version of his single, Happy.
The pop singer combined Pharrell's song with Massive Attack's Teardrop to create a brooding, downbeat cover on BBC Radio 1 earlier this year.
"He heard it and invited me on his tour," she told the BBC. "Apparently that's how it came about."
"You don't get a personal phone call, unfortunately," she added, saying her manager had delivered the good news.
The 25-year-old will be the opening act for 25 dates of Pharrell's European tour, including the opening night in Manchester and two shows at London's O2 arena.
"It will be the biggest venues I've played," she said. "I've played the O2 before [as a guest vocalist for] Rudimental. But to be able to do my own set will be other-worldly."
The singer added it would be "great" to work with Pharrell on new music, "but I won't badger him".
"It's just amazing to be going on tour with such an incredible artist. His music has gone worldwide."
Doctor Who 'secrecy'
Foxes, whose real name is Louisa Rose Allen, saw her debut album chart at number five last month.
She will also be seen this summer in the new series of Doctor Who.
The 25-year-old will perform a song - "not something people have heard before" - on the show, as well as acting alongside Peter Capaldi and Jenna Coleman.
"If I was just going on with an acting role, it wouldn't be the same," she said. "To be able to do what I love on the show is a good mix".
The singer said she was "sworn to secrecy on a lot of details" about her cameo, which was filmed a couple of weeks ago.
"It's so nice for me to be able to talk about it now," she said. "I had to keep it a secret for a really long time. I didn't even tell my mum for a while!"
Doctor Who fans have speculated she will play Coleman's twin, or that she will appear in a scene inspired by the Star Wars Cantina sequence, playing a song surrounded by an alien backing band.
"Oh, that would be good, wouldn't it?" she told the BBC news website. "You never know."
But some of the speculation has taken her by surprise.
"I've just seen something online saying I'm going to go and do a Doctor Who album," she said.
"I love how things escalate. I didn't say that!"