Meltdown is 'something joyous' says curator James Lavelle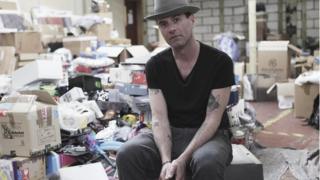 DJ and electronic music producer James Lavelle is taking the reins at this year's annual Meltdown festival on London's South Bank, marking its 21st birthday in the same year as his record label Mo'Wax celebrates the same landmark anniversary.
He started the label, which became home to artists like DJ Shadow, DJ Krush and hip hop group Blackalicious, before his 20th birthday.
As part of the collective Unkle, he also worked with performers like Ian Brown and Massive Attack.
Unkle are playing a one-off gig to kick the festival off and Lavelle has managed to attract names such as Chrissie Hynde, Grandmaster Flash and Queens of the Stone Age singer Josh Homme to this year's event.
How did Meltdown come about? Were the organisers aware Mo'wax was marking its 21st birthday as well?
We've had ongoing talks for the last few years about doing some performances with Unkle and I got into a conversation about a year ago about doing more than that, maybe a weekend-long mini-Meltdown with the Mo'Wax anniversary exhibition.
I had a meeting with Jude Kelly [artistic director of the Southbank Centre] which was quite relaxed and then I got this call about coming to the Southbank and having a chat with the heads of departments. I got there and Jude said rather than something small would I like to do Meltdown? But I didn't see it coming.
Did you say 'yes' immediately, were you aware of the scale of what was involved?
I have a habit of saying yes or no to things before considering the implications of my actions, which, I think, has done great things for me creatively and bad things on other levels. But I said, 'Yes absolutely'. I was in a weird place in my career, wondering what do do next.
Things in my creative life had reached another cycle - I'm 40, I wasn't working on a new record and was feeling a bit low really, so it was an amazing thing to be hit with. The experience of doing Meltdown has been massive in many ways.
For me, it's emotionally driven because it's about you and your history and inspirations. The people that have done it before me [Elvis Costello, John Peel, David Bowie, Morrissey, Jarvis Cocker, Yoko Ono] are much more iconic individuals. They're stars and I don't feel I've been that but I do feel proud. The culture I've come from, the collage sample world of the late '80s and '90s, (curating Meltdown) gives respect to that world.
There's nothing to hide behind, this is James Lavelle's Meltdown and people will scrutinise the choice of performers, did you have a list already?
You come in with the A-list mental dream, like, 'Lets put the Beatles back together'. There are so many things that come into play, economics, finances, the fact that people aren't touring and you go through this whole process. The biggest challenge, is, I've never done anything on this scale before.
It's very eclectic and it's the Royal Festival Hall, it's not like I've got a load of dance tents to fill. That's not easy exactly but its easier for me to do that. I originally wanted to do all these label nights but the main demographic is also an older demographic.
I have a 16-year-old daughter and I wanted to bring together something that we could talk about, that would be interesting to her and her friends.
The people that are on board is amazing, it's such a buzz to see the poster.
And how hands-on were you? Did you phone these artists personally?
Like I said, you have this list which evolves and then time pressure comes into play and to put it crudely, it's like a football transfer window where you're like, 'You need to make a decision'. Because, early on, people are like 'Yeah, lets do it'. And then you wait and you wait and then that person decides they don't want to do a show anymore, or they can't. You go from this calm state where its all mapped out and then it just starts changing.
They wanted a curator that was in London, that was very hands-on and was part of London in that way on a day-to-day level. I've been more hands-on that most I think, I've been on the phone every day 24-7 for the past five months so I've taken on a lot. There are people I've written to personally but it's also about delegation and knowing the people you're working with see your vision and want to be a part of that. Either that or you'd go mad.
Twenty-one years ago, when you started Mo'Wax, you could never have imagined that one day you would be curating an event like this, is this the end of a journey?
I was thinking about this the other night and I think it's the end of a period and I hope it's the beginning of a new one. I've gone through the sort of glory days of Mo'Wax, then the despair when that kind of fell apart, then trying to re-invent myself with Unkle and the beginning being difficult, then the period where it was amazing, touring the world and living rock and roll dreams and that ending and to where I am now.
For me, it's a great celebration of that work and time. I hope it's now a way of moving forward. I can be quite melancholic and with this, it's about trying to do something really joyous.
Has doing this made you creatively hungry again?
Massively, I've been back in the studio, I've done a load of remixes - the last three were all played as Radio 1 exclusives, so I'm back in that world again. It's been like homework, like having a deadline doing the show [Unkle open this year's event at the Royal Festival Hall on 13 June]. We haven't done one in a long time. It's exciting because we're working with new people and have this blank canvas to paint on.
When you started Mo'Wax, an independent label, more than two decades ago, the industry was very different. Thanks to the internet, collaborations have never been easier but issues like file sharing exist. Would you like to be starting out again?
It's a hard question, creatively music is more eclectic than ever, culture is more integrated, the boundaries of country and culture and all of those things, which until not long ago were quite dictating in music, you had the indie chart, the jazz chart, the dance chart. In America it's still pretty segregated, if you were Massive Attack, you didn't get played on black radio or white radio because you didn't fit the mould. All that stuff has gone out the window.
How quickly things respond to trends now is pretty amazing but on the other side, there's so much now and so many things. Like anything in the progression of our world, there are ups and downs and we tend to be retrospective in the way that we look at things. But if I look back to when I was starting out, would I want it to be then or now? I'd want it to be now because it was pretty grey and bleak, so the internet and technology has given us a wealth of choice and I find that amazing.
James Lavelle's Meltdown is on at the Southbank Centre from 13-22 June.