Earliest comedy by female playwright returns to stage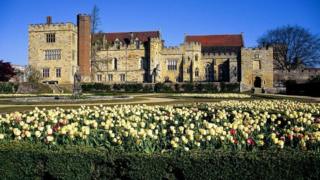 The earliest surviving comedy drama by a British woman - written almost 400 years ago - is being resurrected this weekend in Kent.
Love's Victory, written around 1620 by Lady Mary Wroth, will have a staged reading at Penshurst Place on Sunday.
It is thought to be the play's first public performance for centuries.
"The audience are going to be participating in the making of stage history," said Professor Alison Findlay, of Lancaster University.
Professor Findlay, who has been working on the drama project for two years, has long argued that Lady Mary Wroth composed Love's Victory at Penshurst Place, which once belonged to Henry VIII.
Lady Mary Wroth was the daughter of Robert Sidney, who inherited Penshurst Place in 1587 after the death of his elder brother - the Elizabethan poet and soldier, Sir Philip Sidney.
The Sidney family have been in continuous ownership of Penshurst for more than 460 years.
"Love's Victory is crucial evidence of women's engagement with a dramatic tradition that is usually thought to be exclusively male," Professor Findlay said.
"We don't know if it was ever performed at Penshurst, but I think it's the best play written by an early modern woman. It's got the most variety and spectacle."
Wroth's pastoral play involves shepherds and shepherdesses whose path to love is complicated by the actions of Venus and Cupid.
Sunday's one-off performance by actors from Shakespeare's Globe is part of the Read Not Dead project which stages readings of 16th and 17th Century plays with professional casts.
It coincides with an academic conference over the weekend that will feature the world's foremost experts on the Sidney family's literary works.
The full five-act script of Love's Victory survives only in the Penshurst Manuscript, which has remained in the ownership of the Sidney family.
The audience on Sunday will include Penshurst's current owner Philip Sidney, 2nd Viscount De L'Isle, and members of his family.
"I have wanted to see this play performed ever since I first read it 20 years ago, so I was delighted when Viscount De L'Isle agreed to my idea of putting on a production," Professor Findlay said.
"This event will bring the play to life."