Harper Lee settles case against a Mockingbird museum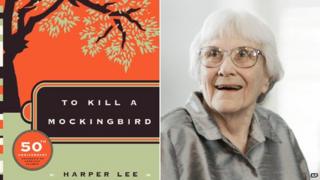 To Kill a Mockingbird author Harper Lee has finally settled a legal action against a museum she accused of profiting from her name.
Lee had sued the Monroe County Heritage Museum in Monroeville, Alabama, for using her name on souvenirs.
The museum is housed in the courthouse where her classic book is set.
The two sides had previously settled but a judge reinstated the case after hearing the museum was attempting to change the terms of the agreement.
The judge has now dismissed the case after Lee and the museum agreed to settle, with the terms remaining confidential.
The author had accused the Monroe County Heritage Museum of making $500,000 (£297,500) from the sale of souvenirs including coasters, aprons and clothing.
It had also used the book title as a website address without compensating the author financially, although a message on its website has confirmed that this has now been changed.
To Kill a Mockingbird tells the story of small-town lawyer Atticus Finch's battle against racial prejudice, as he defends a black man against a false rape charge.
The 87-year-old author's only published novel was made into an Oscar-winning film in 1962, starring Gregory Peck.