Lord Coe refuses to rule out BBC Trust job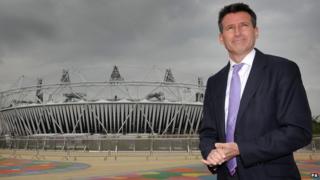 Lord Coe has not ruled out applying to become BBC Trust chairman, telling BBC Radio 5 Live "the honest answer" is that he has "some thinking to do".
It follows reports the Conservative peer and chair of the London 2012 Olympics committee had been approached by the government about the role.
Lord Patten stood down from the BBC Trust in May for health reasons.
Lord Coe commented: "It is a very meaty job and I'm passionate about public service broadcasting."
Presenter Victoria Derbyshire asked Lord Coe - who is reported to have said it was "very flattering" to be linked to the role - if he wanted the job.
"The honest answer to that is I've probably got until the end of June to think about that," responded Lord Coe.
"I'm a passionate believer in public service broadcasting. I was brought up to it. I've been the subject of it in my athletics career, the BBC were our partners during the bid and then the delivery of the the games," he continued.
Asked if he would be applying for the job, Lord Coe replied "not sure".
'Highly speculative'
Since Lord Patten stood down from the role, following major heart surgery, it has been reported that government officials are building a list of potential candidates to succeed him.
Last month it was reported that Lord Coe was a frontrunner and had the backing of both Prime Minister David Cameron and London Mayor Boris Johnson.
Lord Coe said he had not been approached formally for the job, but remained elusive when asked if he had been approached informally, or had discussions with senior conservatives about the role.
"I have conversations about all sorts of things all the time, I'm not going to maintain a running commentary on that," he told the BBC.
"But have I had conversations with the BBC? No. Have I had conversations with the Department of Culture, Media and Sport? No. Have I spoken to head-hunters? No."
Lord Coe said it was "highly speculative" of Derbyshire to take that as a yes and refused to run through what his credentials for the job might be, adding "I've got some thinking to do and that's where it currently is."