Metropolitan Opera could go bankrupt in 'in two years'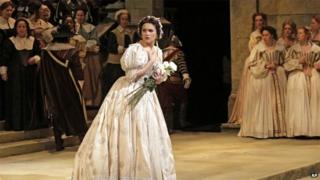 The boss of New York's Metropolitan Opera says it will "face a bankruptcy situation in two or three years" if it does not cut its wages bill.
General Manager Peter Gelb was speaking to BBC Radio 3's Music Matters programme about the Met's current funding issues.
He proposed cutting 16% of its $200m (£119m) labour costs by changing work rules for the orchestra and chorus.
Gelb also defended spending $169,000 (£100,000) on a poppy field stage set for the opera Prince Igor.
Unions have already threatened strike action over the proposed pay cuts, which are up for debate before the players' current contracts expire at the end of July.
"What's at stake, ultimately, is the future of the Met Opera," Gelb told Music Matters' presenter, Tom Service.
"I'm just trying to address this problem a few steps before the edge of the precipice instead of waiting until we are actually on the precipice."
He continued: "Even if I was the worst manager in the world, if two thirds of the cost structure is going to the unions, clearly that's an area that has to be cut."
He hopes to change rules that currently guarantee members of the orchestra and chorus get paid for at least four performances a week, when they usually perform less.
Expensive productions
Answering criticism that the company's productions cost too much, Gelb said they had saved "enormous amounts of money" through co-productions.
When probed on the issue of the expensive poppy field he replied: "Well it's a very large poppy field, and in fact it was the entire scene.
"A hundred and sixty-nine thousand dollars for an entire scene of an opera is not a lot of money. It was the main visual component of the piece and, in fact, Prince Igor was acclaimed by critics as perhaps the greatest production of the Met season."
Gelb added: "Putting on productions is expensive. What we have to do it make it less expensive - not by going back to the stone ages of opera theatre and having productions that no-one will want to see, but by cutting down on the labour costs."
Gelb said the Met's shrinking audience was partly to blame for the shortfall in funding.
"The box office has not increased, it's been flat which represents a shrinking playing field for opera - it's not a secret in the US that the frequency of opera going is going down.
"The Met Opera house has 3,800 seats, far larger than any European opera house," continued Gelb.
"We are getting a newer audience, a younger audience, but there aren't enough new audience members to replace the old audience members who are dying off."
Lack of education
Gelb said he no longer thought the company's live cinema broadcasts were encouraging people to stay away from real opera houses - and cited studies which showed local screenings were allowing older opera fans not to miss out.
"At a cinema in America showing opera, 75% of them [the audience] are over 65, and 30% of them are over 75.
"Those are people who are so old they can't make it to the Met any more, so instead they're getting a chance to extend their opera going in these cinemas."
He said the HD broadcasts had been a huge hit globally, with Germany the opera house's second biggest audience, with 30-35,000 tickets sold for one Saturday performance alone.
However, Gelb lamented the lack of opera and arts education in schools in the US and elsewhere.
"Children are brought up to be tech wizards and to have the attention spans of mice. How do you educate new audiences to like opera which takes three or four hours and is in foreign languages?
"We're trying. As long as governments are not interested in arts education, I think we are in a Catch-22 situation.
"How can we possibly hope to create new audiences for this art form if we are not introducing them or educating them?"
Hear the full interview with Peter Gelb on BBC Radio 3's Music Matters at 12:15 BST on Saturday, 7 June.