Banderas and Griffith to split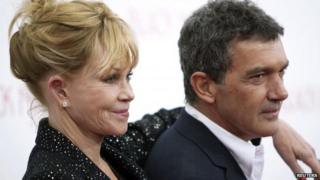 Actress Melanie Griffith has filed for divorce from Spanish actor Antonio Banderas after 18 years of marriage.
The pair, who met on the set of romantic comedy Two Much, married in 1996 and have one daughter, Stella.
Griffith, 56, and Banderas, 53, "thoughtfully and consensually" decided to end their marriage, "honouring and respecting... the beautiful time we have spent together", a statement said.
It was the second marriage for Banderas and the fourth marriage for Griffith.
Griffith - who won an Oscar nomination for her role in the 1988 hit Working Girl - has been twice married, to actor Don Johnson and Steven Bauer.
Banderas was previously married to Spanish actress Ana Leza.
The actor, best known for films such as Desperado and The Mask of Zorro, as well as the Shrek and Spy Kids franchises, will shortly be seen in The Expendables 3.
Griffith has largely dropped out of the limelight since her Broadway debut as Roxie Hart in Chicago, just over a decade ago.
However her daughter Dakota Johnson, one of two children she had with Don Johnson, is due to play the lead role in the highly-anticipated adaptation of EL James's erotic bestseller, Fifty Shades of Grey, next year.