Ed Sheeran clinches number one spot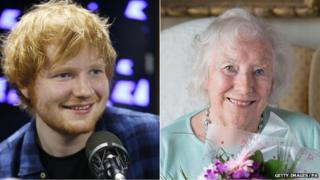 Ed Sheeran has achieved his first number one in the UK singles chart.
The singer-songwriter topped the charts with Sing, replacing Sam Smith's Stay With Me. Smith stays at the top of the album charts with In the Lonely Hour.
Dame Vera Lynn made it into the top 20 albums, at the sprightly age of 97. Her album, The Ultimate Collection, was issued this week to mark the 70th anniversary of the D-Day landings.
Dame Vera, who topped the album charts in 2009, said she was "delighted".
"It is wonderful to hear these songs again that were at the top of the charts so long ago, and it's warming to think that everyone else is listening to them too," she said.
Her album, featuring more than 40 wartime songs including We'll Meet Again and The White Cliffs Of Dover, reached number 13 in the UK album chart.
In 2009, the veteran star - who has been in the music business since she was seven - became the only artist over the age of 90 to top the UK album charts with an earlier 'Best Of' release.
This time, Dame Vera's latest album beat the likes of Pharrell, the Arctic Monkeys and rapper 50 Cent, whose new album missed out on a top 20 spot.
There was consolation for Pharrell, who co-wrote and produced Sheeran's number one single.
Sheeran will play on the Pyramid stage at the Glastonbury Festival later this month.
"I'm a bit shocked to be honest to get such a good slot," he told the BBC last week. "I'm playing after Dolly Parton."