Fault in Our Stars beats Tom Cruise at US box office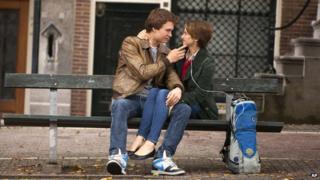 Teen movie The Fault in Our Stars has easily beaten Tom Cruise's action film Edge of Tomorrow at the US box office.
Cruise's time-shifting movie opened in third place, taking $29.1m (£17.3m), despite a budget of $175m (£104m).
The Fault in Our Stars made $48.2m (£28.7m), against a more modest budget of $12m (£7.1m), topping the chart.
Based on John Green's book, the tragic romance stars Shailene Woodley as a teenager with cancer. The audience was 82% female, film studio figures showed.
Changing trends
Box office analysts Rentrak said the movie's success, alongside the likes of Twilight and The Hunger Games, showed how big-budget, male-orientated movies now struggled against those with a large, predominantly female, teenage audience.
"The notion of what is traditional summer fare is changing," said Paul Dergarabedian.
"Women and young girls are as vitally important to the box office in the summer as the young males, who Hollywood has courted and coveted for decades."
Film studio Twentieth Century Fox said 79% of the audience for The Fault In Our Stars was under the age of 25.
The book - about a young couple who meet at a cancer support group - generated a huge following on social media and the trailer has been watched more than 21 million times on YouTube.
Edge of Tomorrow, which co-stars Emily Blunt and Cruise in a Groundhog Day-style time loop as they battle an alien invasion, appealed more to men, who made up 61% of the audience.
However the film did top the international box office, taking a total of $82m (£48.7m) around the world - much of that in China, Korea and Russia.
Elsewhere in the US chart, Maleficent dropped to second place.
The Disney fairytale, starring Angelina Jolie, took $33.5m (£19.9m) in its second week after debuting in the top spot.
X-Men: Days of Future Past was in fourth place with Family Guy creator Seth McFarlane's comedy A Million Ways to Die in the West fifth.
US and Canada box office figures
The Fault in Our Stars - $48.2m (£28.7m)
Maleficent - $33.5m (£19.9m)
Edge of Tomorrow - $29.1m (£17.3m)
X-Men: Days of Future Past - $14.7 m (£8.8m)
A Million Ways to Die in the West - $7.2 m (£4.3m)
Source: Rentrak