Rik Mayall, star of The Young Ones, dies aged 56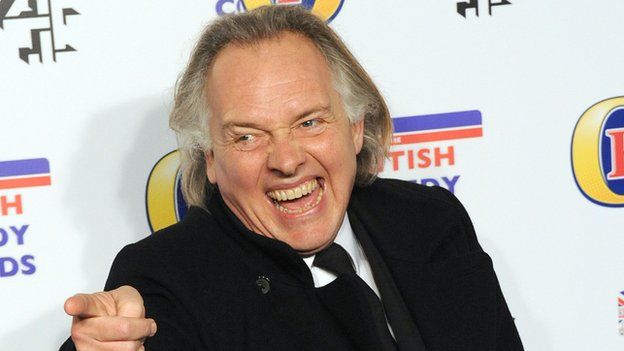 British comedian and actor Rik Mayall has died aged 56.
He played obnoxious, poetry-writing anarchist Rick in The Young Ones with his friend Adrian Edmondson. The pair later starred in the sitcom Bottom.
A pioneer of the 1980s alternative comedy scene, Mayall also appeared in Blackadder and The New Statesman.
His manager Roger Davidson said: "It is a terrible shock. All we know... is that Rik died at home. He touched many lives, and always for the better."
Edmondson added: "There were times when Rik and I were writing together when we almost died laughing.
"They were some of the most carefree stupid days I ever had, and I feel privileged to have shared them with him.
"And now he's died for real. Without me. Selfish bastard."
Police said they were called to reports of a sudden death of a man in his 50s at 13:19 BST on Monday, in Barnes in south west London.
London Ambulance Service said "a man, aged in his 50s, was pronounced dead at the scene".
The Metropolitan Police said the death was not believed to be suspicious.
The actor, who was married with three children, was left seriously ill after a quad bike accident in 1998 which left him in a coma for several days.
His big break came at The Comic Strip Club, performing with comedy partner Adrian Edmondson as 20th Century Coyote in the 1980s, which led to cult television hit The Comic Strip Presents.
He co-wrote The Young Ones with Lise Mayer and Ben Elton, which ran for 12 episodes between 1982 and 1985. It shared cult status and schoolboy humour with later sitcom Bottom.
Mayall and Edmondson's slapstick comedy often involved fires, explosions, and hefty blows to the head with a frying pan.
The pair met at Manchester University before forming the on-stage comedy duo The Dangerous Brothers.
It was there Mayall had befriended Elton, who said of his friend: "He changed my life utterly," adding: "He always made me cry with laughter, now he's just made me cry."
Mayall's film roles included the comedies Drop Dead Fred and Guest House Paradiso.
He also famously played the loud-mouthed and lecherous Lord Flashheart in BBC comedy series Blackadder, starring Rowan Atkinson.
The actor appeared in the second and fourth series, shouting catchphrases such as "woof!" and "let's do-oo-oo it!".
But his early, anarchic characters gave way to the smooth, scheming Conservative politician Alan B'Stard in The New Statesman, which ran on ITV from 1986 to 1992.
Blackadder producer and writer John Lloyd paid tribute, telling the BBC: "It's really a dreadful piece of news."
"He was the most extraordinarily good actor as well as being an amazing stand-up comic. Apart from being great company, he was a great professional," said Lloyd.
Stephen Fry, who appeared with Mayall in Blackadder, described his co-star as "an authentic comedy genius and a prince among men," adding he was "simply distraught" at the news.
Writer Laurence Marks, who created The New Statesman, described Mayall as "a quiet, polite, caring gentleman".
"He was the antithesis of the characters he played," he said, adding that the comedian's health had deteriorated after his quad bike crash 16 years ago.
"I think he lost his long-term memory, so often when we were discussing The New Statesman, he couldn't remember it."
Nigel Planer, who played the hapless hippie Neil in The Young Ones, said he was "very, very sad and upset that we've lost Rik, who was inspirational, bonkers, and a great life force".
He described Mayall as "a brilliant comedian and someone who made everyone else's lives more fun. He will be really, really missed".
'Truly brilliant comedian'
He wrote: "I am heartbroken that my comedy idol growing up Rik Mayall has died. He made me want to be a comedian."
"Growing up there was no one funnier," said The Mighty Boosh comedian Noel Fielding. "We will really miss you Rik Mayall you genius."
Alan Davies, who starred opposite Mayall in Jonathan Creek, said the star was "great to be around"
"Funny, funny man and a comic hero in my teens. Terrible news."
The BBC's director of television, Danny Cohen, paid tribute to his "vibrancy and energy".
"If you look at something like Blackadder Two, Rik just had quite a small part in that series as Lord Flashheart - but it's one of the most memorable scenes in any series of Blackadder.
"And I think that tells you something about Rik. He stole scenes because of his energy and his vibrancy and his comic performances and he was truly extraordinary."
Speaking about his 1998 quad bike accident last year, Mayall said doctors had kept him alive on a life-support machine for five days and were about to turn it off when he began to show signs of life.
He used to mark the occasion by exchanging presents with his wife and children and said the near-death experience changed his life.
He said: "The main difference between now and before my accident is I'm just very glad to be alive.
"Other people get moody in their 40s and 50s - men get the male menopause. I missed the whole thing. I was just really happy."
Related Internet Links
The BBC is not responsible for the content of external sites.