Rik Mayall: Tributes to Young Ones star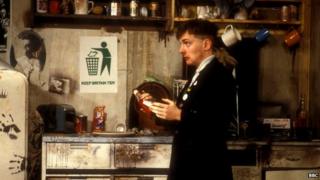 Celebrities, writers and producers have reacted with shock and sadness to the death of comic star Rik Mayall, who has died at the age 56.
His long-time comedy partner Adrian Edmondson led the tributes, with a typically irreverent statement.
"There were times when Rik and I were writing together when we almost died laughing. They were some of the most carefree stupid days I ever had, and I feel privileged to have shared them with him.
"And now he's died for real. Without me. Selfish bastard."
Writer and comedian Ben Elton said he met Mayall, a university contemporary, at the age of 18, adding that his friendship and "extraordinary comic talent" had been an inspiration ever since.
"I owe him so much. He changed my life utterly when he asked me to co-write The Young Ones with him, and he was with me on the day I met my wife," he said.
"He always made me cry with laughter. Now he's just made me cry."
Meanwhile, Mayall's Young Ones co-star, Nigel Planer, said he was "very, very sad and upset that we've lost Rik, who was inspirational, bonkers, and a great life force."
He described Mayall as "a brilliant comedian and someone who made everyone else's lives more fun. He will be really, really missed".
Comedy producer John Lloyd, who helped bring Blackadder to television, told the BBC: "He was an amazing guy.
"I worked with him on all sorts of things - Blackadder, notably, where he was quite extraordinary.
"He was the most extraordinarily good actor, as well as being an amazing live stand-up comic.
"It was one of the great treats to see Rik Mayall live on stage," he said, describing him as "fantastically professional".
Writing in the Independent, comedian Alexi Sayle recalled encountering Mayall at London's Comedy Store in the 1980s.
"Comedy is truly great is when it comes out of nothing, and the greatest of comedians, like Rik, have that rare ability to conjure laugh after laugh not from endless words but from a single look or one absurd gesture," he said.
"He could make an audience start laughing as soon as he walked on stage and just stood there.
"'What?' he'd finally say, as if puzzled by the helpless laughter."
Other tributes came on Twitter.
"Simply distraught to hear of the death of Rik Mayall," wrote Blackadder co-star Stephen Fry. "An authentic comedy genius and a prince among men."
"Very sad to hear of the passing of Rik Mayall," said Monty Python's Eric Idle. "Far too young. A very funny and talented man."
"Growing up there was no one funnier," said The Mighty Boosh comedian Noel Fielding. "We will really miss you Rik Mayall you genius."
'Funniest of his generation'
"So shocked to hear about Rik Mayall," wrote comedian and actor Jack Dee. "A wonderfully funny icon of British comedy."
Comic Bob Mortimer added: "Last time I saw him he grabbed my crotch and said 'Not eaten yet then?" So sad... Funniest man of his generation."
Writer and Comic Relief director Emma Freud, whose partner Richard Curtis co-wrote Blackadder, posted a link to Mayall's first, and only, tweet.
"Opening my very own Twitter to stop another bastard from doing it," the comedian had written. "Don't expect to hear from me any time soon."
Freud commented: "Rik's only tweet. RIP, amazing man."
Doctor Who and Sherlock writer and League of Gentleman star Mark Gatiss added: "Half of the fake moustache I'm currently wearing has just come off in tribute to Lord Flashheart. So long, Rik Mayall."
Writer and comic actor David Walliams posted a video of Mayall making his dramatic entrance as Lord Flashheart in Blackadder.
"I am heartbroken that my comedy idol growing up Rik Mayall has died," he wrote.
"He made me want to be a comedian."
"Rik Mayall was just pure wiry, energetic, unpredictable humour poured into the shape of a human," said satirist and columnist Charlie Brooker. "You couldn't not watch him."
'Rik signed my hand'
Impressionist Jon Culshaw described the star's style as "brilliant anarchic comedy with the force of a water cannon".
Comedian Tim Vine added: "When I was 15 me and my bro saw Rik Mayall Live.
"Afterwards Rik signed my hand. I didn't wash it off for ages. I was a huge fan. RIP."
"Tragic news," said actor and comic Johnny Vegas. "Although I never worked with him our paths had crossed &and he was always a delight."
Referencing Mayall's comedy heavy metal band, actor John Simm wrote: "BAD NEWS".
"A hero and a massive part of my youth. Gone far too soon," he added.
"Shocking, shocking, shocking news," wrote comedian Rebecca Front. "Think of all the laughs we won't now have."
Director Edgar Wright, whose films include Shaun of the Dead and Hot Fuzz, said: "Shocked and saddened that a comedy hero is gone.
"For those who grew up on The Young Ones, Rik Mayall was one of funniest performers ever."
"Ah, dammit, I just heard the news," said Father Ted creator Graham Linehan. "Mayall was one of the funniest people who ever lived."
Alan Davies, who starred opposite Mayall in the series Jonathan Creek, said the star "was so great to be around".
"Funny, funny man and a comic hero in my teens. Terrible news."