Rik Mayall's wife: 'We don't know what happened'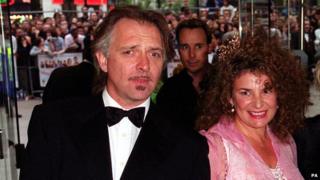 Rik Mayall's wife has said there is no explanation for the 56-year-old comedian's death on Monday.
"We don't know yet what happened," Barbara Robbin told reporters. "He had a strong heart so I don't think it was a heart attack."
"Maybe he had a fit, maybe it was his heart. We just don't know until the coroner's report."
Mayall, who starred in shows like The Young Ones and Bottom, died on Monday at his home in Barnes, south London.
Police said his death was not believed to be suspicious.
The star's 18-year-old daughter Bonnie posted a personal tribute on her Facebook page.
"My dad was loved not only by my family, but by many many others," she wrote. "We will never forget him and neither will the world.
"RIP to the man, the myth, the legend - my wonderful, generous, foul mouthed and hysterical father. My idol now and forever. We love you daddy."
Seizure
Peter Richardson, creator of The Comic Strip Presents, helped give Mayall his big break in the early 1980s. He said his son was with the comedian "an hour or so before he died".
He told BBC Radio 4's Today programme Mayall was "just happily chatting away. It was very quick and we still don't know quite what happened but it was, you know, a seizure of some sort."
The actor, who was married with three children, was left seriously ill after a quad bike accident in 1998, which left him in a coma for several days.
Richardson added: "At the time I don't think people thought he would survive that, but he lived for another 16 years and it was just shocking that he was so happy and seemed very healthy when he did go."
Ben Elton, who co-wrote The Young Ones and Blackadder, was among those paying tribute to star.
Calling him "an inspiration", he said: "I met Rik when I was 18 and his friendship and extraordinary comic talent have been an inspiration to me ever since.
"I owe him so much. He changed my life utterly when he asked me to co-write The Young Ones with him and he was with me on the day I met my wife.
"He always made me cry with laughter, now he's just made me cry."
The Young Ones also starred Mayall's comedy partner Ade Edmondson. They met at Manchester University and went on to create characters including The Dangerous Brothers and BBC sitcom Bottom.
"There were times when Rik and I were writing together when we almost died laughing," said Edmondson on Monday.
"They were some of the most carefree stupid days I ever had, and I feel privileged to have shared them with him.
"And now he's died for real. Without me. Selfish bastard."
Mayall played the lisping, pseudo-intellectual, Cliff Richard-obsessive Rick in The Young Ones.
The character's infatuation with Sir Cliff led to the first ever Comic Relief song - a chart-topping cover version of Living Doll - in 1986.
The pop star also paid tribute to Mayall, saying: "I became a fan of his when he was in The Young Ones show and was always thrilled when he used my name during his series.
"I am so sad at his parting."
Stephen Fry wrote on Twitter from a transatlantic flight: "Crossing the Atlantic with wifi. Simply distraught to hear of the death of Rik Mayall. An authentic comedy genius and a prince among men."
Mayall was a pioneer of the 1980s alternative comedy scene, and got his big break at The Comic Strip Club which led to cult television hit The Comic Strip Presents.
Other much-loved roles included Drop Dead Fred and the loud-mouthed and lecherous Lord Flashheart in BBC comedy series Blackadder, starring Rowan Atkinson.
The actor appeared in the second and fourth series, shouting catchphrases such as "woof!" and "let's do-oo-oo it!".
He also played the smooth, scheming Conservative politician Alan B'Stard in The New Statesman, which ran on ITV from 1986 to 1992.
Writing in the Daily Mail, the show's co-writer Maurice Gran revealed Mayall had wanted "to do something a bit more grown up, as the world saw him as a spotty, skinny youth".
"The word genius has been cheapened by overuse, but in Rik's case no other word will do."