Judge rules that 'critical' Casey Kasem needs medication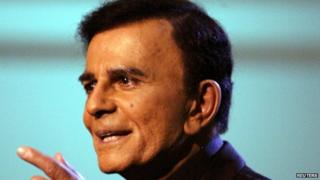 A judge has ruled that Casey Kasem must be hydrated, fed and medicated while a court lawyer assesses his health.
Kasem, the voice of Shaggy in the Scooby-Doo TV series and ex-host of radio's American Top 40, is in a critical condition in a US hospital.
Judge Daniel S Murphy ruled after Kasem's wife Jean said he had no food, water or medication at the weekend.
Kasem's daughter Kerri had removed him from artificial food and water on doctor's orders, her lawyer said.
Kerri Kasem, his daughter from an earlier marriage, is in charge of her father's care.
There has been a legal tussle between his wife Jean and his children from a previous marriage.
His daughter's lawyer, Martha Patterson, said: "The hospital had recommended comfort measures only."
She said he was having some medications to lessen pain, adding that food was causing distress for Kasem and ran the risk of causing pneumonia.
In a statement on Monday, Kerri Kasem said: "If he opens his eyes, I want my dad just once to see everyone standing around him, putting our differences aside and let him know how much he is loved by everyone, including Jean and Liberty [Jean and Casey Kasem's daughter].
Kasem was admitted to St Anthony Hospital in Gig Harbor, Washington, last week.
He was suffering from an infected bedsore which was proving difficult to treat.
He suffers from Lewy body disease, a form of dementia with symptoms similar to Parkinson's disease.
Kasem's court-appointed attorney, Samuel Ingham, will evaluate Kasem's health and care, and is due to issue his findings in a Los Angeles court on Friday.