Sixty-five jobs to go in BBC Radio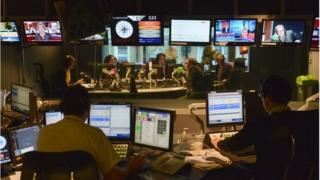 The BBC is to cut 65 jobs in its radio division, the director of BBC Radio has announced.
BBC Radio needs to save £38m by 2016/17 and compulsory redundancies are likely, Helen Boaden told staff meeting at a briefing on Tuesday morning.
The move is part of the £800m cost-cutting measures required by the BBC savings programme Delivering Quality First (DQF).
About 200 jobs, or 15% of all radio employees, will be lost from 2012-2017.
BBC radio will be restructured into two speech and pop music "hubs".
'Envy of world'
Currently, each radio station is run separately.
The speech and classical music hub will cover Radio 4, 4 Extra, Radio 3 and BBC Proms, while the pop music hub will look after Radio 1, 1Xtra, Radio 2, Asian Network and 6 Music.
Each radio station will still have a separate controller but there will be more collaboration, for example on live events and commissioning.
Listeners will not be affected by the internal restructuring, as there are no on-air changes planned.
Ms Boaden said the reorganisation was essential if BBC Radio was to preserve its distinctiveness following the 2010 Licence Fee settlement.
"BBC Radio is the envy of the world and our creativity is second to none," she said.
"But we must also be as small as we can be, to meet our savings challenges and increase our agility in the digital world without losing our distinctiveness or damaging relationships with our many audiences."
Further cuts
In an email to staff sent to staff later on Monday, Ms Boaden said: "It is difficult news for which I am very sorry as I know how passionate and hard-working you all are and how proud you are of working for the BBC."
She also warned of further cuts, saying "there will be more to come, as we will still need to look for further efficiencies of £1.5 million".
The licence fee, which is currently set at £145.50, was frozen in 2010, but the agreement runs out in 2016.
A 2011 study by former Radio Academy boss John Myers, urged the BBC to examine "the advantages" of operating the BBC's four popular music networks under one "single tier management structure".
While the public would not expect the stations to be run cheaply, the report said, there was wasteful duplication.