Morrissey scraps another US tour due to illness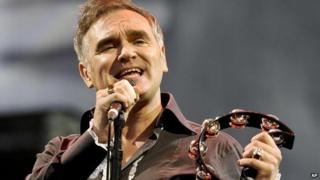 Morrissey has cancelled the remainder of his US tour after being treated in hospital for a respiratory infection.
The former Smiths singer was in the middle of a 30-day tour when he was "rushed" to hospital in Boston on Saturday, according to a statement.
The medical attention "was not enough to shake off the virus, the recovery time for which is too lengthy to meet the final nine shows of the tour".
Morrissey cancelled 22 US concerts last year due to ill health.
His ailments included pneumonia, an ulcer, the throat condition Barrett's oesophagus and anaemia.
A statement on Morrissey's Facebook page said: "It is with great sadness that the remainder of the US Tour has been cancelled.
"The respiratory infection Morrissey contracted in Miami has worsened, and in the interest of making a full recovery, all further touring plans have been halted.
"Morrissey thanks his fans for their compassion, understanding, and well-wishes during this difficult period as he recuperates."
The cancelled gigs include one with Sir Cliff Richard in New York on 21 June.
Support act row
A separate statement on the semi-official fan site True-To-You said: "On Saturday, June 7th, following the show at Boston Opera House, Morrissey collapsed and was rushed to Massachusetts General Hospital where doctors treated Morrissey for 'acute fever.'"
The statement blamed support act Kristeen Young for passing on "a horrendous cold".
But Young hit back in a Facebook post, which has since been removed, saying she was suffering from an allergy attack.
"I am very sorry that Morrissey is not feeling well," she wrote. "But I will not tolerate these lies… particularly about my health. This is really too much and bizarre."