Fathers and Sons play steers clear of Russian cliches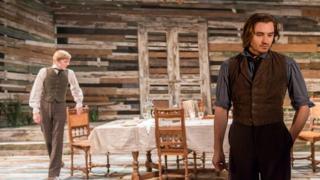 Fathers and Sons, showing at London's Donmar Warehouse, is the work of Irish playwright Brian Friel who has adapted one of the great novels of 19th Century Russia.
The cast is an eclectic mixture of British, Irish and American talent so the dialect coach has been very busy - and director Lyndsey Turner has managed to avoid Russian cliches in the staging of this ambitious work.
One of the play's protagonists, actor Seth Numrich is American and 27. But his stage career is developing a British aspect he didn't really expect when he was training in New York.
Three years ago he took the role of Albert in the New York production of War Horse. Then, last year, he played opposite Kim Cattrall at the Old Vic in London in Tennessee Williams' Sweet Bird of Youth.
"But that was playing an American, even if it wasn't my own accent," he says.
"But in Fathers and Sons we all need to sound English wherever we come from. But Juilliard, where I studied, emphasises how to learn different accents so I knew I had no excuse not to find the right voice."
In fact Numrich, who has just finished making the US historical TV series Turn, manages a flawless accent.
"Firstly the Donmar gave us an amazing dialect coach named Majella Hurley. Then I just spent a lot of time listening to how British people really speak - which is maybe not how Americans think British people speak.
"And I went out and tried to blend into the streets of London: there were a lot of nuances to master."
Numrich started trying to fix his return to England soon after his time at the Old Vic.
"I had so loved the theatre culture here. So I got my agents and my manager to follow up with all the people I met here last summer. That's how I knew the Donmar play was coming up and that probably I was going to be the right age to play Bazarov.
"I sent Lyndsey Turner [the play's director] a couple of audition tapes and when she was directing on Broadway I went to see her. I really, really chased this job down."
Friel crafted his play from Ivan Turgenev's classic 1862 novel. It was first staged at the National Theatre in London in 1987. Friel concentrates less on the book's clash between liberalism and nihilism and more on a set of interlocking personal relationships.
Irish actresses Elaine Cassidy and Caoilfhionn Dunne have also been making use of Majella Hurley's talents as dialect coach.
Cassidy was a hit with TV audiences as Katherine in the BBC's The Paradise, set in northern England in the 1870s. Now Fathers and Sons returns her to much the same era.
"A tiny part of me did think maybe I shouldn't be heading back to the period quite so quickly: I think a performer should normally try something new," she says.
"But, for me, working in anything by Brian Friel is a dream come true. Add to that working with Lyndsey as director and being at the Donmar - no one's going to turn that combination down.
"It's the first time I've been cast in a Brian Friel play and I hope it's not the last. Translations and Dancing at Lughnasa are modern classics. I don't want to sound star-struck but as long as Brian Friel tells us he likes the show, I'm not sure we'll be too bothered about anyone else."
Dunne is from Dublin and is also appearing for the first time in a play by the 85 year-old Friel. "He's such a superb writer with brilliantly nuanced characterisation, even in the smaller roles," she says.
I suggest to Dunne that despite the skill with which she and Cassidy hide their own accents there's an unmistakable Irishness to Friel's use of language.
"It's true. There's a rhythm and a flow and definitely the odd Irish turn of phrase. But that's part of the beauty of the writing," Dunne says.
Tim McMullan is the kind of English character actor always in demand with casting directors. Unlike Numrich, Cassidy and Dunne he's using his own accent on stage but says that can offer its own dangers.
"My character Pavel is the kind of man who can seem so English he could be a retired major in Tunbridge Wells. He has an absurd side but it's a wonderful play so he lives and breathes as a human being too.
"The play is set in Russia, not England. On the other hand there are a lot of Russian stage cliches which can loom in Turgenev if you're not careful - and even more so in Chekhov.
"So we don't have endless rows of silver birches on stage. And quite early on there was a decision that we weren't going to see a single samovar on stage. Possibly that was the most radical choice the director made."
Fathers and Sons is at the Donmar Warehouse until 26 July.