Rik Mayall post-mortem due to take place on Thursday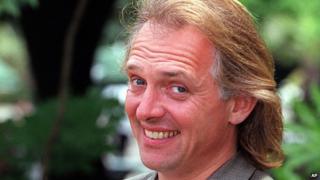 A post-mortem examination will be carried out on Thursday to establish how comedian Rik Mayall died, West London Coroners Court has revealed.
The star of The Young Ones, Bottom and The New Statesman died suddenly at his London home on Monday, aged 56.
Mayall's wife Barbara Robbin told reporters she did not know what had caused his death.
His daughter Bonnie has paid tribute to her "generous, foul mouthed and hysterical father" in a Facebook post.
"My dad was loved not only by my family, but by many many others. We will never forget him and neither will the world.
"R.I.P. to the man, the myth, the legend. My idol now and forever. We love you daddy."
The actor, who had three children, was left seriously ill after a quad bike accident in 1998, spending several days in a coma.
Peter Richardson, creator of The Comic Strip Presents, told the BBC on Monday that his son was with the comedian "an hour or so before he died".
He told BBC Radio 4's Today programme Mayall was "just happily chatting away. It was very quick and we still don't know quite what happened but it was, you know, a seizure of some sort."
Chart campaign
Mayall is likely to feature in this weekend's Official Chart countdown after a social media campaign on behalf of a track he recorded for the 2010 World Cup.
Noble England failed to chart at the time of release but has now reached 38 in the midweek sales chart.
Another unorthodox tribute, in the form of a makeshift blue plaque, was put up in Hammersmith, west London.
It referenced the opening credits of Bottom, the slapstick sitcom created by Mayall and his longtime comedy partner Ade Edmondson.