Teletubbies return to CBeebies with new episodes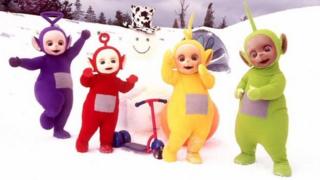 The Teletubbies are to return to CBeebies with a new series - the first produced since 2001.
The BBC has ordered 60 new episodes of the show featuring Tinky Winky, Dipsy, Laa-Laa and Po.
The series will be filmed on a replica set - instead of its original location in Warwickshire - and "enhanced by CGI" to give it a more "contemporary look".
Teletubbies ran for 365 episodes from March 1997 to January 2001 and became a worldwide phenomenon.
The show has been broadcast in more than 120 countries in 45 languages.
The commission comes after Canadian company DHX Media acquired Ragdoll Worldwide - which produced the original series - last September.
'Television crown jewels'
The new episodes will be made by UK production company Darrall Macqueen, who also make Baby Jake and the new Topsy and Tim series for CBeebies.
"I think that now is the right time to create new episodes of this much-loved, iconic show for the current CBeebies audience," Kay Benbow, controller of CBeebies, said.
"Teletubbies is an enduringly popular series with our youngest viewers, although no new episodes have been made for over 10 years.
"Early development and test shoots have persuaded me that CBeebies viewers are in for a wonderful treat."
Darrall Macqueen executive producer Maddy Darrall said: "To work on the new evolution of Teletubbies is like being handed the television crown jewels.
"Teletubbies changed the landscape of children's television and remains a much-loved pre-school series.
"Our creative focus is on respecting the legacy and the heritage of the original and giving it a little creative scrub-up and technological sparkle to match the viewing expectations of a new generation."
Repeats of the original series are currently being shown on CBeebies. It is not known when the new episodes will be broadcast.