22 Jump Street tops US box office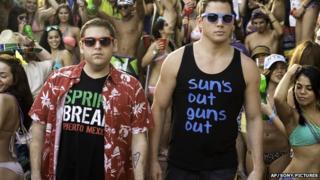 Undercover cop comedy 22 Jump Street has topped the North American box office in its opening weekend.
The sequel to 2012 hit 21 Jump Street, which sees Jonah Hill and Channing Tatum reprise their roles as bumbling detectives, took $60m (£35.3m).
Animated film How to Train Your Dragon 2 opened in second place with $50m (£29.5m).
Last week's number one, teen drama The Fault in Our Stars, fell to number five.
The film, starring Shailene Woodley as a girl who finds love after being diagnosed with cancer, has now taken $81.7m (£48.1m) in the US, against a modest budget of $12m (£7m).
Maleficent - Disney's take on Sleeping Beauty starring Angelina Jolie as the evil fairy - fell one place to three, while Tom Cruise sci-fi Edge of Tomorrow was at four.
Sony Pictures, which distributed 22 Jump Street, said the film was in line to be the second highest-grossing R-rated comedy in box office history.
Its $60m debut is the second-biggest opening for an R-comedy behind The Hangover 2's $85.9m (£50.6m) haul in 2011.
20th Century Fox said How to Train Your Dragon 2's performance was "phenomenal", after it had been predicted to open somewhere around $45m - $48m (£26.5m - £28.3m).
"When a studio has ultimate confidence in something, they will put it in that gladiator arena that is the summer season,'' box office analyst Paul Dergarabedian said.
He added it was rare for two films to open with such big numbers on the same weekend, only happening three times before and all involving an animated film: last year when Monsters University opened against World War Z; in 2012 when Madagascar 3 opened against Prometheus and in 2008 when Wall-E opened against Wanted.
North American box office
1. 22 Jump Street - $60m
2. How to Train Your Dragon 2 - $50m
3. Maleficent - $19m
4. Edge of Tomorrow - $16.2m
5. The Fault in Our Stars - $15.7m