Tracy Morgan condition upgraded to 'fair'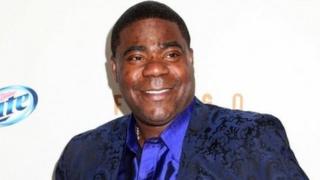 US comedian Tracy Morgan's condition has been "upgraded" to "fair", 10 days after he was badly injured in a motorway crash, his spokesman has said.
He has made a "great improvement" and "his personality is certainly starting to come back as well", Lewis Kay said.
Morgan was described as "critical but stable" last week after breaking his legs, nose and ribs when a Walmart truck driver crashed into his vehicle.
The driver charged with death by auto and assault has pleaded not guilty.
Kevin Roper, 35, made his plea in court on 11 June. Prosecutors said he had not slept for more than 24 hours before the accident on 7 June.
He swerved to avoid traffic on the New Jersey Turnpike, crashing into Mr Morgan's van and killing comedian James McNair, known as Jimmy Mack.
The driver's bail has been set at $50,000 (£29,779) and he could face more than a decade in prison if convicted.
Jeff Millea, Morgan's 36-year-old assistant, who was also in critical condition after the crash, has been upgraded to fair condition as well. Fellow comedian Ardie Fuqua Jr was also seriously injured.
Morgan, 45, starred alongside Tina Fey and Alec Baldwin in the comedy series 30 Rock and is a former regular on Saturday Night Live.
It was revealed last week that doctors were "optimistic" about his recovery.
Gossip website TMZ has so far refused to remove a video featuring footage of the crash site, which shows motorists stopping and pulling a body, believed to be Fuqua, from the wreckage of Morgan's limousine,
Last week actor and comedian Louis CK pleaded with TMZ on Twitter to "take it down", asking fans not to watch the video as it featured his friends who were in intensive care.
Fuqua's daughter also posted a statement appealing to TMZ on social media, calling it "hurtful".
"All I ask is to be kindly left alone so that my father and everyone else can be left in peace," she said.
Kay said last week that Morgan's fiancee Megan Wollover was with him as he recovered from an operation on his leg and was relaying everyone's good wishes.