Game of Thrones finale beats previous season's viewers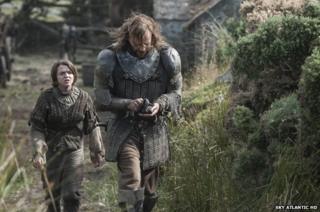 The closing episode of fantasy TV series Game of Thrones drew 7.1 million viewers on HBO in the US on Sunday, beating the 5.4 million who tuned in for the previous season's last episode.
Once repeats were taken into account, the finale for the fourth season was seen by 9.3 million people.
Total viewing figures, including video on demand and mobile streaming have not yet been released.
It is now HBO's most popular series, surpassing The Sopranos.
The average audience during series four, including catch-up services, has been 18.6 million per episode. The Sopranos' audience peaked at 18.2m in 2002, giving it the HBO record until now.
The show is engaged in a ratings war with zombie thriller The Walking Dead, which attracted 15.7 million viewers for its season finale in April.
However, broadcaster AMC said its audience jumped to 28 million once repeats and on-demand figures were taken into account.
The finale was shown in the UK on Monday night on Sky Atlantic.
Channel director Julia Barry said final viewing figures were not yet available, but initial ratings were "very strong, peaking at almost 1.3 million" and would rise once catch-up figures were added.
"It's a story that continues to capture more and more fans and I'm delighted to say this season has been our biggest yet," she added.
"Audiences for season four are up by about two-thirds on the previous season, with well over two million people watching each episode, whether live or on demand.
"This officially makes Game of Thrones the highest-rating show across all Sky entertainment channels this year."
The final Game of Thrones episode, The Children, saw many of the show's leading characters making key decisions which will impact them in future episodes, while several met a typically grisly end.
Season five has already been confirmed.
The TV series is based on the books, A Song of Ice and Fire by George RR Martin, set in the mythical, medieval land of Westeros.
In the north, a massive wall of ice keeps out barbarian "wildlings" and zombie-like "white walkers". South of the wall, there is a bitter war between rival claimants for the Iron Throne and rule of the seven kingdoms of Westeros.
Meanwhile, a princess exiled to distant lands with three dragons has rallied an army of freed slaves.
The series is full of intense political intrigue, with war and its aftermath depicted in brutal detail. Characters have sexual relationships on screen, and sometimes even heroes die unexpectedly.
The show, which first aired in 2011, features actors including Peter Dinklage, Charles Dance, Lena Headey, Emilia Clarke and Maisie Williams.