Bowe Bergdahl: POW saga inspires competing films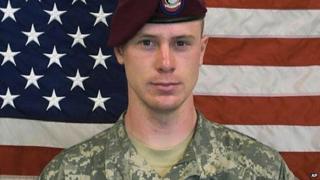 Two films are being planned about US solider Sgt Bowe Bergdahl, who was held captive by the Taliban for five years.
Hollywood website Deadline reports that director Kathryn Bigelow and writer Mark Boal are developing a project based on his release last month.
Their previous films, Zero Dark Thirty and The Hurt Locker, were both ripped from headlines in the Middle East
Meanwhile, Fox has acquired the movie rights to a Rolling Stone article about the soldier.
The 2012 article, titled America's Last Prisoner of War, detailed the 28-year-old's background and history, as well as the Pentagon's heavily-politicised attempts to find and rescue him.
Todd Field, who was Oscar-nominated for his previous films Little Children and In The Bedroom, is attached to adapt and direct the story.
The Bigelow/Boal project will be made through the latter's recently launched production company, Page 1.
The pair both won Oscars for their work on 2009's The Hurt Locker and were Oscar nominated for 2012's Zero Dark Thirty.
As neither project has yet to obtain Sgt Bergdahl's "life rights" to tell his story, the movies may be forced to compete for a green light.
After leaving his base in Afghanistan, Sgt Bergdahl spent five years in captivity until he was freed in exchange for five Taliban prisoners held in Guantanamo Bay.
He returned to an Army medical facility in Texas last week.
His release has sparked a heated political row in the US, with Republicans warning that the deal could put American lives at risk.